BY PETE MOHR | JANUARY 26, 2011
Soccer Guys blank Mac, 3-0, on 'Senior Night' but can't spoil Saguaro's two nights later
A defiant Head Coach, Tony Vos, confident Falcons will go all the way at State, starting Feb. 2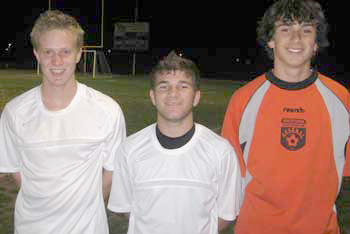 Three for the win! (l-r) seniors Thor Kellin, C.J. Mione and Casey DeBusk did what seniors are expected to do on Senior Night: they led their team to a 3-0 win over McClintock. Kellin (2) and Mione were the goal-scorers; goalkeeper DeBusk got the shutout.
Photos by Pete Mohr
CSHS – Tony Vos to
Sonoran News
: "It's like I told our kids on the bus ride home: sometimes, no matter how well you play, when the breaks don't go your way, you're gonna lose some games. That's what happened tonight." Saguaro, 3 - CSHS, 1.
At Saguaro, on the Sabercats' Senior Night, the Falcons were playing their third game in three nights. On their Senior Night, Thursday, Jan. 13, the 'Birds had shut out always-pesky McClintock, 3-0, on a "double" by center midfielder Thor Kellin, sandwiched around a determined goal by C.J. Mione. Seniors shined on Senior Night with goalkeeper CaseyDeBusk posting a shutout. The next afternoon found the Falcons on the
l-o-n-g
bus ride to "new school" Poston Butte. The 'Birds waltzed, 11-0, to whatever-you-want-to-call-it constituting the soccer equivalent of batting practice. Not exactly the prep "Coach Tony" would've ordered up on the eve of Saguaro, also undefeated in Desert Sky play.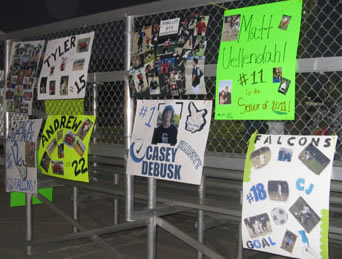 "Soccer Moms" did it right! "Career" posters for each of their seniors added a nice celebratory touch to Soccer's "Senior Night." Congratulations, faithful Moms. You've raised some fine athletes!
Bad Break #1: at 7:50 into the 1st half, a Sabercat midfielder launched a rocket from about 30 yards out that went over a leaping Casey DeBusk into the top left corner. No question, a fantastic shot, probably one-in-a-hundred. But still, the 'Cats got on the board with the momentum-building first goal. In a big rivalry game, with the last Region championship on the line, that first goal was
huge
.
Tri-Captain Jacob Donovan narrowly missed tying the game when his hard grounder from the right side went less than a foot wide of the left goal post. That let more air out of the Falcons' balloon.
Bad Break #2: at 21:09, still in the 1st, the Sabercats were awarded a penalty kick, which their shooter drilled past DeBusk into the back left corner, who had no chance. Saguaro, 2 - CSHS, 0.
Bad Break #3: Striker Donovan is sidelined before halftime with a hyper-extended right knee. Valuable firepower lost. He'll be back for the State Tournament. The Falcons go to the ten-minute intermission down 0-2.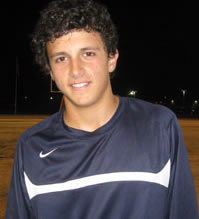 One for pride: senior forward Nick Miller's goal late in the 2nd half got the Falcons on the board and kept Saguaro's goalkeeper (who strutted like a peacock!) from a shutout; but the score came too late for the Falcons to rally from a three-goal deficit.
DeBusk came up with some great saves to keep the game close in the 2nd half, but at 30:36, a 'Cat "header" off a corner kick was the 3-0 dagger. But there was no "quit" in these Falcons. At 34:40, senior forward Nick Miller blasted a shot into the upper right corner to pull the Falcs within two. And it could've been down to one when, with 1:30 left to play, Tri-Captain Jack Huettner's hard shot hit the crossbar square in the middle and bounced away. It just wasn't to be for the 'Birds this night and the 'Cats ran out the clock. Final: Saguaro, 3 - CSHS, 1.

Now I invite readers to look at the accompanying photo of Coach Vos addressing his dejected players postgame. Here's what he angrily exhorted them to do: "Guys, turn around and watch Saguaro celebrating in front of their fans. They can celebrate all they want tonight; but when we win the next four games and are holding the State Championship trophy over our heads, that's when it will be our turn to celebrate."

Right-on, Coach Tony! I'm betting on you and your Falcons.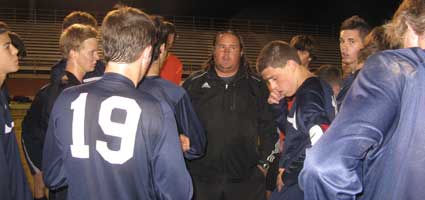 Down – but not out! Postgame, Head Coach Tony Vos rallied his dejected squad with a feisty exhortation that they look forward to celebrating a State Championship come early next month.
Soccer Seniors and parents
[in alphabetical order]
Andrew Christopher (Mike Christopher and Nancy McKinney)
Casey DeBusk (Bob and Cathy DeBusk)
Thor Kellin (Sandy and Robyn Kellin)
Jon Manning (Tim and Dianne Manning)
Tyler McKinney (Scott McKinney and Lori Smith)
Nick Miller (Mike and Danielle Miller)
C.J. Mione (Ken and Deborah Mione)
Matt Ullendahl (Jack and Elaine Ullendahl)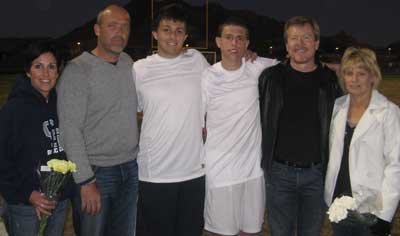 Senior Tri-Captains Jack Huettner (l), Phil Wiltfong (r), with proud parents Mark and Shawn Huettner and Tom and Susan Wiltfong at their sides, Senior Night, Thursday, Jan. 13. Well done, Guys! And also to junior Tri-Captain Jacob Donovan.