BY PETE MOHR | JANUARY 26, 2011
'Friday Night Fever!' CSHS, 63 - Campo, 51; Falcons get big road win at Poston, 59-48
Co-Captains Casey Perrin, Max Gersh pace both victories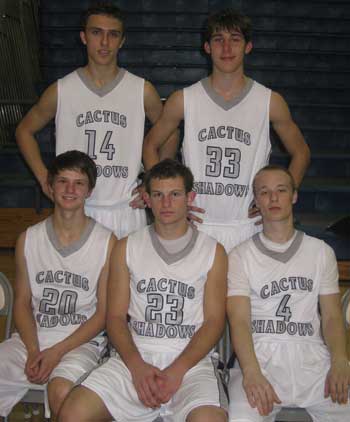 4TH PERIOD "INTENSITY" lifted the Falcons to a crowd-exciting 63-51 win over the visiting Campo Verde Coyotes, Friday night, Jan. 21. Leading the 'Birds were (front, l-r) C.J. Davis, Co-Capt. Max Gersh, Co-Capt. Casey Perrin; (back, l-r) Mike Rabanni, Trevor O'Hearn. Not available for photo: Jack Bennett. Queen Creek here, Friday, Jan. 28, 7 p.m. varsity tip.
Photo by Pete Mohr

CSHS – Before last Friday night's home game against Campo Verde, one of three "new" schools in the Desert Sky Region, Head Coach Tyler Dummett opined to Sonoran News, "I think Campo Verde has a pretty good team. Tonight, we should find out what we're made of."

For Coach Dummett, the "jury" stayed out longer than was comfortable. His Falcons frittered away a 32-26 halftime lead. Midway through the 3rd, they actually trailed the Coyotes, 32-35. Then sophomore C.J. Davis nailed a "three"; Max Gersh netted one of two three throws; and Davis came back to make both free throws off a technical called against Campo's Coach Neal McDonald. But the 'Birds couldn't put the feisty Coyotes away. A three-point play brought them back to 43-43 at the 3rd period buzzer. Right here in Nervous City!

In the final eight minutes, the Falcons fired out to an 11-point run ("threes" by Davis, Gersh and Perrin, plus a strong rebound basket by Mike Rabanni): CSHS, 54 - Campo, 49. Then Gersh, Rabanni, Trevor O'Hearn and Jack Bennett took control of both boards, limiting the Coyotes to just two points in the game's final three minutes. Falcs blew 'em out, 20-8, in the 4th!

With Campo having to foul for possession, the Falcs sank nine straight free throws, six by Perrin, who was a perfect 10-for-10 in his game-high 22 points. He was the only Falcon in double figures, with Rabanni, Davis and Gersh finishing with 9, 8 and 7, respectively.

Postgame, Coach Dummett: "We'll take it (the win); but I can't explain why we didn't play with the same intensity the first three quarters that produced our 20-8 run that put the game way in the 4th. Somehow, this team has to learn how to play 32 minutes of intense basketball – not just in the final eight."

With momentum from the win over Campo, the #11-ranked 'Birds made the long haul (east of Queen Creek) to take on #8 Poston Butte, Tuesday night, Jan. 25. "Gloryosky, 'Zero'!" The Hoop Guys led wire-to-wire in upsetting the Broncos, 59-48! Co-Captains Gersh (13) and Perrin (11) led the HomeBirds balanced scoring. O'Hearn and Alec Stewart each tallied 7, Austin Horton and Eric Johnson, 6 apiece.

Coach Dummett, always low-keyed: "No question, a big road win for us. Now we've got to come home … beat Queen Creek on Friday night … then try to pick up a couple of wins next week." Gonna be tough, Coach: at #6 Saguaro, Tuesday, Feb. 1, then hosting run-and-gun #9 McClintock, Friday, Feb. 4. The Falcons have lopsided scores to settle with both the Sabercats and Chargers.

CSHS students and Falcon fans: if you're not in Barrett Gym come Friday night, you'll miss out on "The Fever"!