JANUARY 28, 2011
6,000 Steelers and Packers fans to descend upon Cave Creek on Super Bowl Sunday
"Fans Kick Their Cans" Challenge: Which fans will bring the most canned foods and toiletries? Foothills Food Bank will weigh donations after the big game
CAVE CREEK – One of Arizona's last authentic Western small towns will transform into a sea of black and gold and green and gold on Sunday, Feb. 6 as nearly 6,000 fans descend upon it to root for their beloved Pittsburgh Steelers and Green Bay Packers teams in Super Bowl XLV.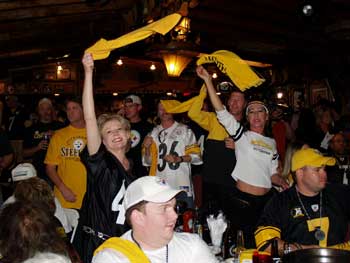 Cave Creek is gearing up for perhaps two of the largest rivalry Super Bowl parties in the nation. The tiny desert town just north of Scottsdale is home to the nation's largest Steelers bar, Harold's Corral, which happens to share a dirt parking lot with The Buffalo Chip Saloon, one of the country's largest Packers bars that was rated by PHOENIX magazine as one of the best places to watch a Packers game. The number of fans expected exceeds the Town's population of 4,000.

Harold's Corral co-owners Danny Piacquadio and Bill Vale and The Buffalo Chip owner Larry Wendt are working around the clock to prepare for the big day. In anticipation of 4,000 Steelers fans, Harold's has ordered enough for 9,000 servings of beer and plans to serve 250 Primanti Brothers sandwiches, 1,200 home-made pierogies, and 3,600 chicken wings.

The Buffalo Chip expects a rowdy crowd of up to 2,000 Packers fans and will serve 4,000 pounds of barbecue, 600 cases of beer, and plenty of Johnsonville Bratwurst, Walleye, Lake Perch, and cheese curds.

Piacquadio and Wendt have a fun rivalry bet: the owner of the losing team will wear the other team's jersey for one week.

Both restaurants have also issued a "Fans Kick Their Cans" challenge to bring canned foods and toiletries for a special collection at each restaurant to see which fans donate the most items to the Foothills Food Bank and Resource Center. Volunteers from the non-profit will weigh the donations after the game. The owner of the losing "Fans Kick Their Cans" challenge will fly the other team's flag at his restaurant for one week.

Pam DiPietro, the food bank's executive director, said she is thrilled that the rival bars are working together to help the community, especially since the need for services has increased nearly 700 percent since 2007.

"We always need monetary donations, but we're also in dire need of toiletries, such as soaps, shampoos, laundry detergent, toilet paper, and other items that can't be bought with food stamps," DiPietro said. "We also need peanut butter and jelly, pasta sauce, juice, dried milk, canned pasta, and baby items, such as diapers, wipes and formula."

Harold's Corral is located at 6895 E. Cave Creek Rd.; The Buffalo Chip is located at 6811 E. Cave Creek Rd. The Steelers/Packers game begins at 4 p.m., but fans will begin arriving to both bars at noon. There is limited free parking at both restaurants, with plenty of parking around Town. For best parking, take the free shuttle bus from parking lots in the Town's Center.

Steelers fans can purchase their tailgate tent Super Bowl table at www.haroldscorral.com to secure a seat to view the game on one of 18 large projection screens with stadium sound.
The restaurant will also charge a $10 cover charge but that does not guarantee a seat. The first 200 people who bring a donation for Foothills Food Bank will get Harold's version of the Super Bowl XLV "Terrible Towel." Harold's will also feature an oompah band playing polka songs and raffle off autographed Steelers memorabilia to raise funds for local youth charities.

Packers fans will pay a $10 cover charge at The Buffalo Chip, which includes a giant party tent with a big screen TV and stadium sound, Packers prizes, tons of memorabilia, and food specials.

To reserve seats or a table at Harold's Cave Creek Corral, call (480) 488-1906 or visit www.haroldscorral.com.

To reserve seats or a table at The Buffalo Chip, call (480) 488-9118 or visit www.buffalochipsaloon.com.
JANUARY 26, 2011
C4's 1st Crack Espresso Porter Launch Party & Beer Dinner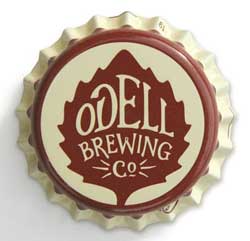 Cave Creek Coffee Company kicks off Arizona Beer Week on at 7 p.m. Friday, Feb. 18 with a crack espresso porter launch party, beer dinner and meet and greet with owner of Odell Brewing, Doug Odell! The festivities begin at 7 p.m. with an Easy Street Wheat beer reception and house made soft pretzel bites and continue with the following food and beer pairings:

First Course
C4 Chili paired with 5Barrel Pale Ale

Second Course
Bratwurst Sliders served with 90 Shilling IPA caramelized onions and whole grain mustard aioli, paired with 90 Shilling IPA

Third Course
Brazed Short Ribs served with Bourbon Barrel BBQ sauce, and sweet potato mash; and paired with Bourbon Barrel Stout

Fourth Course
Stout Cake paired with C4's 1st Crack Espresso Porter

For more information or to purchase tickets call 480-488-0603 or visit the website at www.cavecreekcoffee.com. (Reservations required).

Cave Creek Coffee Company is located at 6033 E. Cave Creek Road, Cave Creek, Ariz.