BY LINDA BENTLEY | JANUARY 20, 2011
Wilcox vindicated by corrupt cabal of conflicted characters
PHOENIX – On Jan. 18, Gila County Attorney Daisy Flores announced her office will not pursue the public corruption charges against Maricopa County Supervisor Mary Rose Wilcox initiated last year by former Maricopa County Attorney Andrew Thomas and Sheriff Joe Arpaio. Keep Reading ...
BY LINDA BENTLEY | JANUARY 19, 2011
Firearm and self-defense bills worth tracking
'The right of the individual citizen to bear arms in defense of himself or the state shall not be impaired …'
PHOENIX – Rep. Jack Harper, R-Dist. 4, has introduced four bills this session that are supported by the Arizona Citizens Defense League (AzCDL). Keep reading ...

BY LINDA BENTLEY | JANUARY 19, 2011
Carefree to hold joint workshop on distributed antenna systems
Federal law 'clearly prohibits' towns from regulating wireless installations based on perceived health risks
CAREFREE – Town council and the planning commission will be holding a joint work study session beginning at 5 p.m. on Monday, Jan. 24 concerning distributed antenna systems (DAS). Keep reading ...
BY LINDA BENTLEY | JANUARY 19, 2011
Criminal aliens and the 287(g) program
PHOENIX – Until the Arizona Department of Corrections (ADC) entered into a 287(g) Memorandum of Agreement (MOA) with Immigration and Customs Enforcement (ICE) in 2006, which delegated qualified ADC personnel the authority to perform certain functions of an immigration officer from within its jurisdiction, criminal aliens were simply released after serving their time.. Keep reading ...
BY LINDA BENTLEY | JANUARY 19, 2011
Old waste water plant hauled away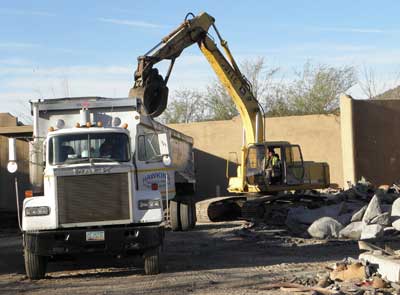 After cutting up and dismantling the old Rancho Mañana wastewater treatment plant last week, Garney Construction workers were busy on Monday loading up the rubble to be trucked out and either disposed of or recycled.
Photo by Linda Bentley
BY LINDA BENTLEY | JANUARY 19, 2011
Fressadi files for bankruptcy
M&I Bank granted summary judgment against Fressadi in foreclosure action
CAVE CREEK – On Jan. 7, Maricopa County Superior Court Judge John Rea, after taking the matter under advisement, ordered M&I Bank's motion for summary judgment in its foreclosure action against Arek Fressadi for the School House Road property granted. Keep reading ...