JANUARY 19, 2011
Business to Business

Davis Dentistry is the place to go – providing Dental Care on your terms! Experience an old fashioned approach when a family and a Dentist had a real relationship. Two specials to choose from: new Patient Dental Cleaning for $99 or New Patient Special FREE Exam, FREE X-Rays, FREE Consultation, FREE 2nd Opinion. Located at Terravita Marketplace, 34522 N. Scottsdale Road, Ste. 105, Scottsdale. Call Mark or Monica Davis, DDS at 480-595-1300 for an appointment.
If you're looking for novelty hot sauces, go to Suzanne's Hot Stuff. You can view any of her many sauces online, www.suzanneshotstuff.com, or visit their location at 6245 E. Cave Creek Road. 480-488-1277
Ridgecrest Healthcare caters to the mind and body. Ridgecrest offers private rooms, one-on-one therapy, a certified wound care specialist, message therapy, extra wide beds with Tempur-Pedic foam mattresses and free WiFi access. Located at 16640 N. 38th St. Call 602-482-6671 or visit www.ridgecresthc.com.
Steel Security Doors a "U.S. Veteran Owned Business," Specializes in Security Doors, Sunscreen, Entry Gates, Enclosures and Window Guards. Compare our quality to others and then you will choose Steel Security Doors from $699 installed. $100 off any door with a regular base price of $1099 or more. $50 off any door with a regular base price of $825 or more. For complete information call or order today 623-581-3667.
Rancho Mañana Golf Club is offering discounts every day of the week. Sun-Thurs play for $75 ($65 after 1 p.m.) or $80 Fri-Sat. ($70 after 1 p.m.). Spend only $49 after 2 p.m. everyday. Located at 5734 E. Rancho Mañana Blvd. Call 480-488-0398 to set up a tee-time.
Pane e Vino for the very best Italian Cuisine in Scottsdale. Listed are just a few services that Pane e Vino offers: Romantic Cozy Booths, Private Parties and Banquets, Catering, Large Comfortable Bar and live music on Friday and Saturday. Happy Hour Nightly in the lounge from 5 – 7 p.m., 50% OFF Well liquor, beer and wine by the glass (not valid with any other offers). Call for Dinner Reservations at 480-473-7900. "Do Not Forget Your Sweetheart on Valentine's Day, February 14th."
JANUARY 19, 2011
Horny Toad memorabilia auction benefits food bank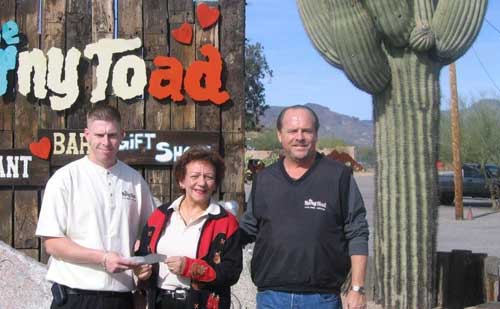 In November, The Horny Toad restaurant held one of their semi-annual silent auctions featuring signed sports and western memorabilia. One hundred percent of the profits are always donated to the Foothills Food Bank. Owner Jeffrey L. Price (r) and son Tom Price were on hand recently to present a check to Pam DiPietro, Executive Director of the food bank.