BY PETE MOHR | JANUARY 19, 2011
LadyFalcons get huge win!
Outcondition #1 Sunrise, 4-1
Postgame, Head Coach Jeff Vittorio accurately described to Sonoran News his Lady Falcons' 4-1 victory last Friday night over previously undefeated and #1-ranked Sunrise Mountain: "It was a huge win for us! ... Keep reading ...
BY PETE MOHR | JANUARY 19, 2011
Soccer TKOs Q-Creek, 2-1
"Stick around high school sports long enough"… and you'll see a Varsity Soccer game (at Falcon Stadium, Thursday, Jan. 13) called with 4:12 left to play because of the opposing team's unsportsmanlike conduct – fighting. Keep reading ...
BY PETE MOHR | JANUARY 19, 2011
Miller wins 2nd straight PP&K Title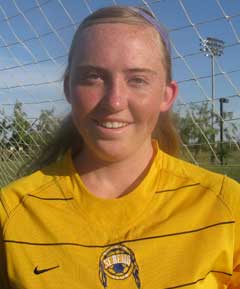 Last Saturday night Carissa Miller was announced to the national audience (during the Atlanta Falcons/Green Bay Packers playoff game) as the girls winner (14-15 years) in the NFL's annual Punt, Pass and Kick competition. Live and on-screen, there she was! Cave Creek's own "Cassie" Miller, 15, a sophomore at Cactus Shadows. Her award was presented by Ray Anderson, the NFL's Executive Vice President of football operations.

Representing her home area Arizona Cardinals, Cassie "retires" with her second straight PP&K title. She is the daughter of Creeker Kim Von Dran and the younger sister of Football Falcon senior Andrew Miller, who will likely suit up for the U.S. Air Force Academy this fall.

In her spare time, El Gato, "The Cat," as she was nicknamed by her Sereno Soccer Club teammates, is in goal for the U.S. National Girls Soccer Team at both the 15U and 17U levels, traveling worldwide.

"How'ya gonna keep 'er in Cave Creek, after she's seen Beijing?" Congratulations, Cassie!

Video: Executive Vice President of Football Operations Ray Anderson announces the winners of the 2010 Punt, Pass, and Kick competition.