BY LINDA BENTLEY | JANUARY 12, 2011
Going, going, almost gone
Now that Cave Creek's new wastewater treatment plant
at the Water Ranch on Carefree Highway is up and running, the town's contract with Garney Construction also includes the dismantling of
the old wastewater treatment plant on Rancho Mañana Boulevard, which is expected to be completed within the
next few weeks.
Photos by Linda Bentley

BY LINDA BENTLEY | JANUARY 12, 2011
Carefree's commercial core comes out of the closet
The center panels on Carefree's sundial signs (below) that used to say "Gas Lamp District," have been replaced with an arrow, a modification suggested by merchants. In addition, several, new, generic, orange directional signs (r) were installed last week to help visitors find Carefree's town core.
Photos by Linda Bentley

CAREFREE – After the town spent about $90,000 on its sundial signs, which blend into the background so well as to go unnoticed, to direct people into Carefree's commercial center and "Gas Lamp District," merchants told council the signs did absolutely nothing to help people locate their businesses.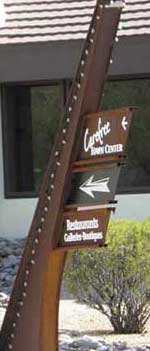 At the behest of the Carefree Business Group, LLC (CBG), the town approved spending an additional $10,000 to have several bright orange directional signs installed at strategic locations and replace the "Gas Lamp District" panels on the sundial signs with an arrow, in hopes of directing people into the commercial center once they arrived in Carefree.

While Carefree has an aversion to sandwich signs, citing it doesn't want to look like neighboring communities, more signs, similar to the new generic orange ones, are in the works to direct people, once in the commercial core, to specific restaurants and businesses.

The town plans to charge merchants an annual fee for naming rights on those signs, although it has not yet established what that fee will be.

However, during a recent council meeting the CBG indicated there was consensus amongst the merchants that $500 appeared fair.
BY LINDA BENTLEY | JANUARY 12, 2011
Governor signs emergency measure to provide mourners peace

'During times of grief, families should be free from harassment or intimidation'
PHOENIX – After returning to Phoenix on from her trip to Tucson on Tuesday to meet with victims of Saturday's shooting, Governor Jan Brewer signed SB 1101, with an emergency clause, allowing the law to take effect immediately. Keep reading ...
BY LINDA BENTLEY | JANUARY 12, 2011
New Mexico's governor plans to revoke licenses issued to illegal aliens
'… we cannot just have a path to citizenship created when there are people in line already doing the proper things'
SANTA FE, N.M. – New Mexico's newly elected Gov. Susana Martinez has come out swinging with a budget proposal that would cut spending and close the budget deficit without raising taxes or making cuts to classroom spending or health care for New Mexico's most vulnerable. Keep reading ...
JANUARY 12, 2011
Scottsdale honors its employees
SCOTTSDALE – Jamie Petermann was named the 2011 recipient of the Herbert R. Drinkwater Award and Ryan Freeburg was named the recipient of the Bill Donaldson Award at the city's annual employees' award ceremony today. Keep reading ...