JANUARY 12, 2011
Ending a decade with pride, the 100 Club announces a milestone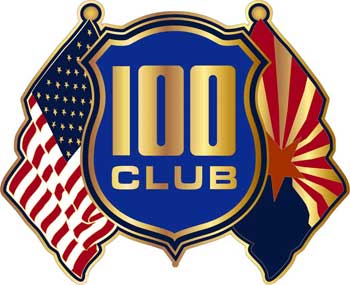 The 100 Club of Arizona has been a local nonprofit organization for 43 years, and celebrates a year of success, a decade of triumph and a future of promise.

The 100 Club of Arizona is proud to announce that Five Million Dollars have been provided to more than 1,100 statewide public safety agencies, officers, firefighters, and their families since initiation in 1968. $4.6 million of this amount has been given away in the past ten years, correlating with the welcoming of recent Athena Award recipient Sharon Knutson-Felix as Executive Director in December 2001.

As this decade ends, the 100 Club is paying tribute to the every day heroes that have protected and serve. In 2010 alone, Arizona lost eleven public safety officers and firefighters who made the ultimate sacrifice in the line of duty. In addition, 29 officers and firefighters were lost to non-line of duty deaths. The 100 Club was able to provide $15,000 to the families of those killed in the line of duty, and $5,000 to the families of those who passed away off duty.

The 100 Club has been able to provide this because of its significant growth in the past decade. Benefits were extended to agencies outside of the Valley to include statewide departments in 2002. The Scholarship Program, established in 2007, has awarded 87 deserving young people with over $294,000 in funding for college educations. In addition, more than $714,000 has been granted to public safety agencies requesting funds to purchase safety equipment and training through the Safety Enhancement Stipend Program, which launched in 2004. 2010 brought the addition of another program, the Suicide Awareness Program, which offered training to public safety leaders on this delicate subject, including signs of suicide and how to prevent such tragedies. A third class in Flagstaff will take place in February to reach out to Northern Arizona agencies. While continuing to serve those who serve the community, the 100 Club anticipates the coming years as opportunities to grow further as an Arizona nonprofit and a member of the local community.

The 100 Club of Arizona is a nonprofit organization that provides financial assistance to public safety officers and firefighters when they are seriously injured or killed in the line of duty, and to provide resources to enhance their safety and welfare. It was started in 1968, and has given more than 5 million dollars in financial support to Arizona's men and women who stand behind the badge. For more information, log on to www.100club.org or e-mail info@100club.org.