BY LINDA BENTLEY |JANUARY 5, 2011
Fressadi rings in New Year with new Notice of Claim against town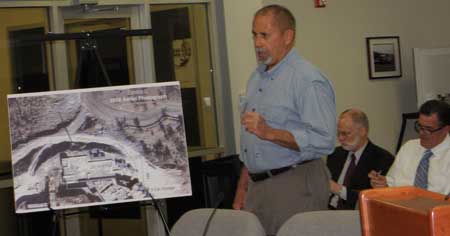 On Jan. 3, the same day he was scheduled to appear in court for oral arguments in M&I Marshall & Ilsley Bank's foreclosure action against his School House Road property, Arek Fressadi, pictured at a board of adjustment meeting, presented the town with a new Notice of Claim and Revised Offer of Settlement.
Photo by Linda Bentley

CAVE CREEK – At around 8:30 p.m. on Jan. 2, Arek Fressadi was ringing in the New Year by e-mailing Cave Creek officials yet another Notice of Claim with a Revised Offer of Settlement in which he continues to accuse the town of malfeasance, misfeasance and nonfeasance.

Fressadi's Notice was dated Jan. 3, 2011, the same day he was to appear in court for oral arguments in M&I Marshall and Ilsley Bank's foreclosure action against his School House Road property, the basis of his ongoing claims and lawsuits.

The Notice is a continuation of his ranting about having extended sewer lines and the town's refusal to enter into a reimbursement agreement with him.

Fressadi claims under "Frustration of Purpose/ Damages" that his initial purpose in acquiring his land was to develop an adobe pueblo but because of Planning Director Ian Cordwell's advice and recommendations, he altered his purpose to selling lots and contracting to build houses for a profit.

What Fressadi fails to mention anywhere in the 10-page document is his original project: "Casas de Fressadi," involved development of an illegal subdivision in order to circumvent the town's and state's subdivision laws as well as filing of a costly public report with the Arizona Department of Real Estate.

Nonetheless, Fressadi claims the town, "through a series of fraudulent schemes and false pretences," has resulted in prospective actual/compensatory damages of $14.3 million plus interest at the rate of 10 percent per annum.

His Offer of Settlement begins by stating, "Given that Mr. Curley, attorney for M&I Bank, classified this mess as the ugliest situation he'd ever experienced as a land attorney, the opportunity becomes how to create the prettiest solution for all involved."

Curley made it quite clear during the November board of adjustment meeting that his clients, M&I Bank, which was seeking a variance Fressai opposed, had no desire to be "held hostage" by Fressadi via any sort of agreement, a sentiment that was publicly backed up by former and current neighboring property owners who have had equally unpleasant dealings with Fressadi.

Fressadi goes on to suggest the town and one of his neighboring property owners acquire his land and convert it into a park, which he says could offset the excessive lot disturbance on that neighbor's property, while his parcel could be "used for Black Mountain access and fireworks on the fourth of July."

Fressadi then states, "In memory of this adventure, I would remove the outhouse, the gates, the large rock inscribed 'Tierra Fressadi' and the turquoise shade as my personal property. A global settlement of all litigation would include acquisition of the DeVicenzo parcels as part of the park acquisition. M&I Bank could loan the town the money with participation from all other defendants for their negligent contribution. The bank could consider a community contribution with naming rights to the park."

In consideration of $3.8 million, Fressadi is offering to sell his property to the town and dismiss his various lawsuits and provided a breakdown of how he arrived at that figure.
Dismissal of CV2009-050821 with prejudice would come at the price of $323,937.

While Fressadi revoked his driveway agreement with neighboring property owners, he is seeking payment of $1.4 million from the town for "contractual interference."

To dismiss CV2009-050924, for which he has filed a notice of appeal, Fressadi is demanding $2.1 million.

However, should the town and/or the neighboring property owners decide to acquire his land and revoke his standing, Fressadi offered as an alternative to the $2.1 million that the town reverse the variances granted for excessive lot disturbance (done to provide access to his neighbors' properties after Fressadi physically blocked their access) on two lots and restore them back to their original condition, and deed a strip of land 30 feet wide along the northern boundary of his property to the DeVicenzo parcel "to block the visual pollution of Mark Way."

It would appear then if M&I Bank were to obtain a ruling in its favor, foreclosing on Fressadi's property, that too would revoke his standing in most, if not all, of his lawsuits involving his School House Road property.