BY LINDA BENTLEY |JANUARY 5, 2011
Carefree Town Attorney Chenal to join AG Tom Horne's team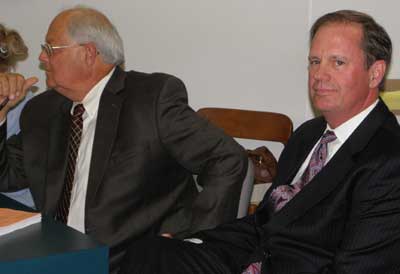 Town Attorney Tom Chenal (r) announced he had accepted Attorney General Tom Horne's invitation to become a division chief and Attorney Mike White, seated to his right, a 15-year partner in Chenal's firm, will take over as town attorney. Photo by Linda Bentley

CAREFREE – During the Current Events segment of Tuesday's council meeting, Councilman Bob Coady announced that MCSO Posse Member Jim Van Allen is retiring and asked if there was something special the town to could to do to acknowledge his dedication and service to the community.

Immediately thereafter, Town Attorney Tom Chenal announced he had accepted an invitation from Arizona Attorney General Tom Horne to become a division chief and would be resigning as town attorney.

Chenal said after 10 years as Carefree's town attorney and 30 years with his law firm, from which he also resigned, he gave it great thought and decided "this is something I should do."

Attorney Mike Wright, a 15-year partner in Chenal's law firm, will take over the reigns as town attorney.

Mayor David Schwan told Chenal, "We're a better town because of your service."

Jo Gemmill reported on the Christmas festival and stated, "We had a spectacular Christmas festival this year."

She said restaurants throughout town had record sales and merchants were busy as well.
According to Gemmill, there were an estimated 20,000 visitors to the three-day festival.

The Carefree - Cave Creek Chamber of Commerce reported to council what its role is as far as marketing goes.

Although the chamber's website is being revamped, the website currently receives approximately 400,000 hits per month from all over the world.

Holly Pagliaro reported to council on the Carefree Business Group and said Carefree Station had the best December since 2005.

Pagliaro said her gallery has had the best December since 2006.

She also said Cathy Marr, who owns Venues Café, has been working with the concierge at Boulders Resort, which is beginning to refer visitors to Carefree, as she pointed out El Pedregal is about 80 percent vacant.

Pagliaro said, "2011 will be a great year."

Council voted unanimously in favor of retaining independent, third-party, expert engineering and legal consultants at a cost not to exceed $7,000 to become better informed about the technology and legal rights regarding distributed antenna systems, as Crown Castle (formerly NewPath Networks) is currently involved in the application process for the installation of cell towers in Carefree.

While Councilmen Peter Koteas, Doug Stavoe and Coady expressed concerns about the costs and noted there were ordinances they could adapt that were already court-tested in Calif., Schwan said all of their concerns would be better addressed by experts in the field.
Council then voted unanimously to hold a joint work study session with the planning commission on either Monday, Jan. 24 or Tuesday, Jan. 25 to meet with the consultants.