BY PETE MOHR | JANUARY 5, 2011
B-R-R-R! Frozen Hoop Gals are 0-3 in 'Energy Classic,' but strong defensively

GILLETTE, Wyo. – This writer seriously doubts that travelocity.com features Gillette, Wyo. as a getaway destination for New Year's Week. But after their flight to Denver and a five-hour bus ordeal (7 1/2 hours on their return in blizzard conditions), that's where Head Coach Ryan Pletnick's Lady Falcons ended up to play basketball in Gillette's "Energy Classic," Dec. 28-30. It was the LadyBirds' second consecutive appearance there. (On his return trek to the North Pole, Santa Claus stopped off to serve as official scorer.) Keep reading ...
BY PETE MOHR | JANUARY 5, 2011
Soccer Falcs are 2nd at Reindeer Classic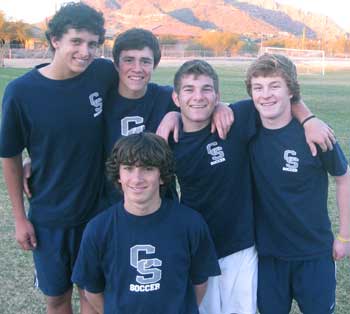 These five Soccer Falcons weren't smiling after last Thursday's bizarre penalty kick loss to the Agua Fria Owls in the Dec. 30 finals of the Reindeer Classic at rain-soaked Northwest Soccer Complex. Pictured (l-r) strikers Nick Miller (SR), Jacob Donovan (SR), C.J. Mione (SR) and Nick Hammer (FR). Kneeling is senior goalkeeper Casey DeBusk. After the officials had ruled the "pitch" unplayable for a regular game, a penalty kick venue was hastily set up, and the Owls prevailed, 1-0 (4-3 PK). The two teams had tied, 0-0, in an earlier round.

Head Coach Tony Vos to Sonoran News after Monday's practice: "Not taking anything away from Agua Fria, but we were disappointed that we didn't get another full-game shot at them. We'd gotten back into a good rhythm … I liked our ball movement … and we were playing good possession soccer. We had our chances and didn't convert."

Falcons had advanced to the finals by beating Northwest Christian Academy, 4-2, on goals (in order scored) by Donovan, Dylan Hartman, Mione and Hammer. Catch the #11-ranked Falcons, Thursday, Jan. 6, when they host #8 Campo Verde, 6 p.m. start.
BY PETE MOHR | JANUARY 5, 2011
Hoop Guys in pivotal contests
Q-Creek (A), Jan. 4, Saguaro (H), Jan. 7


CSHS – After a ho-hum second half performance against the (Yuma) Cibola Raiders that cost them a 3rd Place finish in last week's Great Desert Shoot Out, Head Coach Tyler Dummett's #7-ranked Basketball Falcons need to prove that their seven-game win streak was no Fluke. 'Birds are at #32 Queen Creek, Tuesday evening, Jan. 4; back at "The Roost," Friday evening, Jan. 7, against #9 Saguaro. Clearly, they have the talent. It's all about "pride," guys. I believe you've got it. No more Holiday yawns! Friday's tip is at 7 p.m.
Hoops UPDATE
Varsities sweep QC; Gals, 47-18; Guys, 55-50. Saguaro here Friday
Jan. 4 (H): (l-r) "K.P." (Kaylee Paciora), Kelsey Easterbrook, Rachel Manak, Danielle Zalewski keyed Ladies' romp over the Lady Bulldogs. Casey Perrin and Max Gersh, each with 15 points, helped Falcons (A) edge the Purple 'Dawgs for a big road win. #6 'Birds host #8 Sabercats, Friday, Jan. 7, tipoff at 7 p.m.