JANUARY 5, 2011
Cave Creek Balloon Festival
Schedule of Events
• Saturday Morning Hot Air Balloon Launches: Be a part of the festivities. Book a morning Hot Air Balloon Ride with Rainbow Ryders.
For reservations visit RainbowRyders.com/cavecreekballoonfestival.com.

(Launch location may vary depending on wind direction)

• 4 p.m. Gates Open: KLME 108's Tim and Willy doing live remotes from the stage. Kids Zone, Food and Beverages – full service or cash concessions, Hot Air Balloon tethers – See the festival!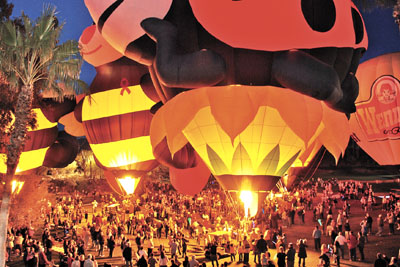 • 5:30 p.m. Balloons Start Inflating: Mingle with the pilots and crews. They will be laying out the balloons so give them plenty of room. Please do not step on the balloons. Balloons can only be inflated during calm wind conditions so this time has to be flexible.

• 6 p.m. Tim and Willy and The Herndon Brothers: Tim and Willy jamming with The Herndon Brothers. Enjoy the 7 story tall "light bulbs" while listening to Tim and Willy.
Enjoy talking to the pilots and crews as you marvel at these "gentle giants".

• 7 p.m. Foothills Caring Corps raffle drawing: Raffle winners will be eligible to win $1 million by getting a hole in one.

• 7:30 p.m. Arizona Skyhawks Parachute Team: Spectacular night time sky diving demonstration with special glow in the dark suits and pyrotechnics. Make sure you have your camera.

• 8 – 10 p.m. Food, Beverage, Music, Dancing, Kids Zone ... Remember, hot air balloons require mild weather and calm winds. In the event of high winds we'll blast the burners and entertain, however inflations will only be done if it is safe.

The Cave Creek Balloon Festival takes place Saturday, Jan. 8 at Rancho Manana Golf Club. Admission is $8 for adults, $5 for ages 3-12 and free for children 2 and under. For information visit www.cavecreekballoonfestival.com.

Raffle tickets are $10 each or $100 for eleven tickets and are available through Jan. 8 by calling the Foothills Caring Corps, 480-488-1105 or online at www.foothillscaringcorps.com. A portion of ticket sales will benefit the non-profit organization.

Aerial Solutions, a Cave Creek based company, is the event coordinator and founder. For more information visit CaveCreekBalloonFestival.com.