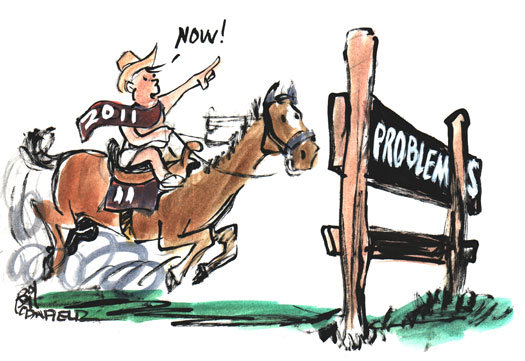 BY LINDA BENTLEY | DECEMBER 29, 2010
Arizona Boxing Commission serving state-sanctioned criminal activity
Federal IDs issued to rapists, child molesters and other violent offenders
PHOENIX – Boxing trainer Joe Diaz has been calling for Mary Rose Wilcox to step down as Maricopa County Supervisor, since learning she used her position as boxing commission chair and as county supervisor to protect the criminal activity of Top Rank Boxing promotion's Arizona front man Peter McKinn at Diaz's expense. Keep reading ...
BY LINDA BENTLEY | DECEMBER 29, 2010
Fressadi continues rampage against town
'Given the criminal nature of the malfeasance, I am formally requesting a criminal investigation …'
CAVE CREEK – The day after Christmas, Arek Fressadi penned a letter to Board of Adjustment Chair Fred Mueller alleging the town had issued fraudulent variances to the property owners adjacent to his School House Road property, which is currently in judicial foreclosure proceedings. Keep reading ...

BY LINDA BENTLEY | DECEMBER 29, 2010
Teflon Turk at it again in California
NEWPORT BEACH, Calif. – In February 2009, Reha Mehmet Soylular, 46, who used to run Ti Amo Restaurant in Cave Creek, Baci in Desert Hills and then Meridian in Anthem, entered a plea agreement in U.S. District Court for the Central District California, pleading guilty to one count of fraud. Keep reading ...
DECEMBER 29, 2010
Cave Creek Museum seeks fondest memories of Desert Foothills area for new blog

CAVE CREEK – What's your fondest memory of Cave Creek, Carefree, and the Desert Foothills area?

Cave Creek Museum is seeking your help in preserving these memories digitally on its new blog designed to capture stories from individuals, families, and businesses alike. Blog entries will be saved and possibly highlighted during the Museum's celebration of the state's Centennial in February 2012. Keep reading ...