BY PETE MOHR | DECEMBER 30, 2010
SPORTS UPDATE:
Boys Soccer: Coach Tony Voss's Soccer Falcons defeated Boulder Creek, 4-2, to advance to the Dec. 30 finals of the Verrado ("Reindeer") Tournament. Weather permitting, CSHS met Agua Fria in the 11 a.m. finals. Results unavailable.

Boys Basketball: "Seven steps forward (to 7 straight) … two steps back (0-2) …" in Great Desert Shoot Out Tournament play, first losing Wednesday night, 63-72, to Nogales in the semis (after defeating Sierra Linda, 65-60, in their matinee), then going cold (translate "no energy") in the second half of their Thursday afternoon loss to Cibola (Yuma), 56-63, the Raiders taking 3rd Place.

Postgame, a disappointed Head Coach Tyler Dummett to Sonoran News: "Our tournament on our floor: we've got to find the pride to play with consistency. We didn't have that this afternoon."

#7-ranked 'Birds travel to Queen Creek, Tuesday evening, Jan. 4, then return home to host #9 Saguaro, Friday evening, Jan. 7. Both are Desert Sky Region contests, 7 p.m. tips.
BY PETE MOHR | DECEMBER 29, 2010
Falcons avenge Buckeye, 78-48; Met Sierra Linda (Avondale) – Kofa (Yuma) winner in Quarters, Dec. 29
Nine 'Birds score in 22-point, 3rd quarter explosion that shot down Hawks

CSHS – Older fans will surely remember the opening words from (the late) Blues singer Dinah Washington's most memorable hit, "What a difference a day makes … twenty-four little hours …" Change Dinah's "twenty four little hours" to "thirty-one learning days" and you can begin to appreciate the Basketball Falcons 6-0 turnaround.
Keep reading ...
BY PETE MOHR | DECEMBER 29, 2010
Once a "Saint," now an "Angel"!
If you were following the Cactus Shadows – Notre Dame baseball rivalry at the mid-point of this decade, I'm confident you remember the un-bee-leev-able play by the Saints centerfielder, Peter Bourjos [Notre Dame Prep '05]. Keep reading ...
BY PETE MOHR | DECEMBER 29, 2010
Soccer Sightings
GIRLS:
A questionable call on a corner kick cost the Lady Falcons a 0-1 loss to Horizon in their Verrado Tournament first game, Tuesday, Dec. 28. In the 1st half, a Lady Huskies' corner kick hit the crossbar and dropped straight down to Co-Capt. Tiffiny Maitland who volleyed the ball out of danger – only to have the referee rule the ball had crossed the goal line.
No way!
The LadyBirds rebounded in their second match of the day, downing Willow Canyon, 4-2. Ladies were up, 3-0, on goals by Co-Capt. Saige Williams (JR), Taryn McClendon (SR) and Kelli Reid (SO) before the Lady Wildcats closed to 3-2. Ashley Butcher (JR) netted the insurance goal in the 2nd half.
On Wednesday, Dec. 29, the Soccer Ladies, playing by the tournament's "point system" format, were tied, 1-1, by the Boulder Creek Lady Jaguars, thus eliminating the Soccer Gals from the tournament.
BOYS:
Real-live falcons seek tree cover when it rains. Soccer Falcons had no such luxury, playing on in the light rain, Wednesday morning, Dec. 29. They defeated Boulder Creek, 4-1. The win advanced the 'Birds Booters into the afternoon's semifinals against Northwest Christian Academy, defending 2A champs.
For the Falcons in their morning win, Nick Hammer paced the attack with two goals. Dylan Hartman and Phil Wiltfong also scored. If the Falcs beat Northwest Christian, they will play in the finals tomorrow, Dec. 30, 11 a.m. start time.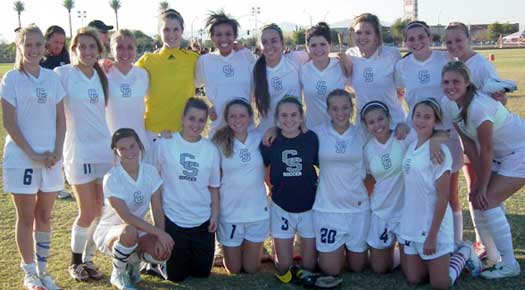 Head Coach Jeff Vittorio's Soccer Ladies were in a "want-to-be-photographed" mood after beating Willow Canyon, 4-2, in their second match of the day (Verrado Tournament). They'd dropped a questionable call 0-1 decision to 5A-II Horizon in their opener. Soccer Zebras, like their gridiron compatriots, are not infallible. (Courtesy photo)