BY MARIELLE D. MARNE | DECEMBER 22, 2010
Smokin' meals to be had at Frontier Town's Smokehouse Restaurant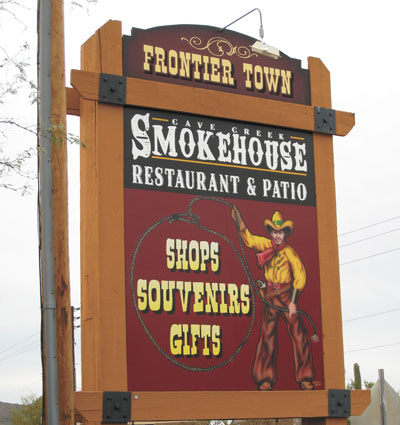 CAVE CREEK – The Cave Creek Smokehouse and Pour House in Frontier Town embodies all that is Cave Creek. It's warm and friendly, certainly has a rustic flair, the food is tasty and the drinks flow. The Smokehouse is under new ownership; Kyle and Kirsten Huebsch took over in early September. They are delighted to be back in the restaurant business after having previously owned Creekers Territorial Grill.

Other than great food, what's on tap? Randi Smelko shared, "We go there every Tuesday night!" Tuesdays, diners can get in on the fun of Mel's auction. Enjoy local talent on Wednesday with an open mic. Thursday offers up a trivia game night. Friday and Saturday nights live music featuring various bands is available. Check out the Smokehouse's Facebook page for details.

With a name like the Smokehouse, foodies can expect barbeque along with American cuisine. "That's what we do," Kyle explained, "All of our meats are smoked anywhere from six to 16 hours." Diners' favorites? Ribs, burgers, nachos and smoked brisket lasagna. For those who may want lighter fare, try the salad bar. The offerings change daily, but every delectable morsel is fresh and in-season. Wash down your meal with one of 12 beers on tap or one of the many other libations at the bar.

If you opt for outdoor seating on the Pour House patio, take note, smoking is still permitted.
Have an event? "We can accommodate up to 500 people," Kirsten added. There's a lovely courtyard and even a wedding chapel to experience a true western betrothal.
Look for online holiday specials by visiting their website at cavecreeksmokehouse.com. There's a surf and turf New Year's Eve dinner for $29 a couple! It's likely the best value around.

The Cave Creek Smokehouse is located at 6245 E. Cave Creek Rd. in the heart of Cave Creek. Phone 480-488-3317 for hours and directions.
DECEMBER 22, 2010
Cave Creek Balloon Festival Golf Ball Raffle benefits Foothills Caring Corps
Tickets on sale through January 8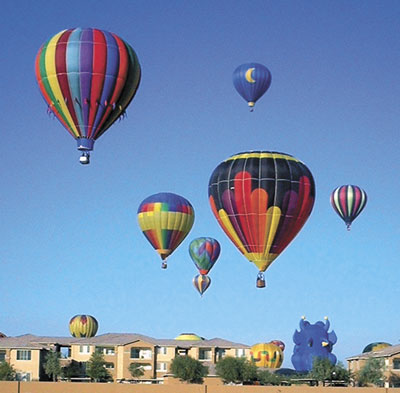 CAVE CREEK – The Foothills Caring Corps announces they have been invited to be the beneficiary of the Golf Ball Raffle that takes place on Jan. 8 at the Cave Creek Balloon Festival Golf Tournament.

Tickets are on sale now for the raffle drawing in which five winners will receive $500 cash prizes and a chance to participate in a hole-in-one contest to win $1 million dollars.

Raffle tickets are $10 each or $100 for eleven tickets and are available through Jan. 8 by calling the Foothills Caring Corps, 480-488-1105 or online at www.foothillscaringcorps.com.
A portion of ticket sales will benefit the non-profit organization that provides services for the homebound and elderly throughout the northeast Valley.

The drawing will take place at the Cave Creek Balloon Festival Golf Tournament that tees off with a shotgun start at 9 a.m., Saturday, Jan. 8 at Rancho Manana Golf Club, 5734 E. Rancho Manana Boulevard in Cave Creek. The Golf Ball Raffle drawing will be held at 4 p.m.
The Cave Creek Balloon Festival takes place from 4 – 10 p.m., Saturday, Jan. 8 at Rancho Mañana Golf Club. Admission is $8 for adults, $5 for ages 3-12 and free for children 2 and under. For information visit www.cavecreekballoonfestival.com.

The Cave Creek Balloon Festival is presented by Aerial Solutions and is sponsored by Sanderson Lincoln.