DECEMBER 15, 2010
Rural/Metro Corp announces long-term commitment to Boys and Girls Clubs of Greater Scottsdale
Rural/Metro Corporation celebrates 60+ years of public safety service; Nearly 200 people attend legacy event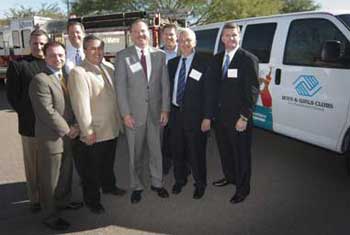 Front Row (l to r): Michael DiMino (president and CEO of Rural/Metro Corp., Steve Davidson (president/CEO, Boys and Girls Clubs of Greater Scottsdale), Mayor Jim Lane, Conrad A. Conrad (Chairman, Rural/Metro Corp. Board of Directors), Brian Gibson (Senior Vice President and COO of Rural/Metro Corp.) Back Row (l to r): David Cohen, Rick Baker, Clark Peterson – Boys and Girls Clubs of Greater Scottsdale Board Members. Courtesy photo.

SCOTTSDALE – Last week, Scottsdale-based Rural/Metro Corp. (parent to Southwest Ambulance and Rural/Metro Fire Department) announced it will provide free vehicle maintenance to the Boys and Girls Clubs of Greater Scottsdale's 26-van fleet used to transport the kids to and from school for all its branches. The announcement was made during Rural/Metro's Legacy Celebration.

Celebrating more than 60 years of providing ambulance and fire protection services throughout Arizona and the United States, Rural/Metro Corporation hosted nearly 200 guests at its Legacy Celebration on Wednesday, Dec. 8. Held at the company's corporate headquarters in Scottsdale, attendees included elected officials from across the state as well as community and business partners.

Hosted by Conrad A. Conrad, chairman of the board, and Michael DiMino, president and chief executive officer, the celebratory event provided an opportunity to share the company's success, not only here in Arizona but across the country.

Rural/Metro was founded in 1948 by Lou Witzeman. Also attending the event were members of the Witzeman family.

"Lou Witzeman's ability to differentiate Rural/Metro from all others was undeniable," DiMino said. "Today, more than six decades later, Rural/Metro is still differentiating itself in every community we serve."

Through its ambulance and fire protection services, Rural/Metro impacts nearly 1.2 million lives a year, in 20 states and 440 cities and counties across the nation. The company boasts nearly 6,000 paramedics, EMTs and firefighters and 2,000-plus professional staff.

The $530 million enterprise is a national leader and innovator in the health and safety services industry and is among Arizona's largest publicly traded companies.

As part of the Legacy Celebration, DiMino announced a long-term commitment to the Boys and Girls Clubs of Greater Scottsdale to maintain the organization's fleet of 26 vans. The Clubs use these vehicles to transport children from school districts in the Greater Scottsdale area, including Fountain Hills, Desert Ridge and the Salt River Pima-Maricopa Indian Community.

According to DiMino, "When we met with the Boys & Girls Clubs and heard about the programs, the children, the great work and the challenges that go along with managing a community program of this magnitude, we knew we wanted to offer some financial assistance.

Rural/Metro has a first-class vehicle maintenance team and we knew we could offer this service to the Clubs – saving the organization thousands of dollars each year."

"The majority of the kids attending are Clubs are transported by us using one of our Club vehicles," said Steve Davidson, president and CEO of the Boys and Girls Clubs of Greater Scottsdale. "A commitment to the safety of our members is always in the forefront of our minds and we know it is for Rural/Metro as well."

For video footage from the legacy event, please click ww.youtube.com/watch?v=A21ZOVbx4Qw.
For photo images from the legacy even, please click bit.ly/eZlORT.

Rural/Metro Corporation provides emergency and non-emergency ambulance services and private fire protection services in 20 states and approximately 440 communities throughout the United States. For more information, visit Rural/Metro Corporation online at www.ruralmetro.com.