DECEMBER 1, 2010
Kate Nolen at Studio C4 in December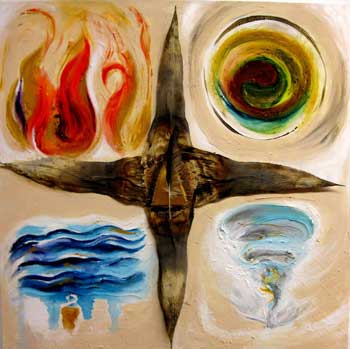 CAVE CREEK – Throughout the month of December, valley resident and artist, Kate Nolen will showcase a new art exhibit called "Elemental Intuition: Quinta Essentia" at Studio C4 Gallery at Cave Creek Coffee Company. The exhibit will capture the fifth element of life; the soul/spiritual being of a person or an object in nature. Nolen says, "These paintings will represent the four elements: Fire, Earth, Air and Water, with an element of soul and spiritual growth."

Growing up on the northern countryside of Louisiana, Nolen has always appreciated the power of nature in its raw form. Utilizing materials from human ruins, unused artifacts from old mining towns, non-productive farms, abandoned dwellings, and natural media from various landscapes, her art is a reflection of the loving connectivity between human beings and nature.

Nolen has been painting and taking photographs for eight years. She says, "As a creative soul, the object is to draw beauty and light from unlikely places." Nolen balances the harshness of the materials by incorporating and fusing them into a piece. She often uses stones, wood, plants, leaves, shells, feathers, and petrified wood; and creates paintings with the materials using acrylic paint to create a colorful, harmonious abstraction. She adds, "The pieces speak to my inner space. No color or placement is ever set in stone and they always turn out differently than I could have planned. The goal in all of this is to establish the essence of radiance, harmony, and love, and allow it to reflect in others, for their enjoyment and for the greater good of the universe."

A meet and greet with artist, Kate Nolen, will be held at the gallery on Saturday, Dec. 11 from 6 – 9 p.m.

Cave Creek Coffee Company houses Studio C4, featuring monthly rotating contemporary artwork by local artists. Studio C4 is open on Monday and Sunday from 6:30 a.m. – 3 p.m; and Tuesday-Saturday from 6:30 a.m. – 10 p.m. Studio C4 is located at 6033 E. Cave Creek Road, Cave Creek. For more information visit www.cavecreekcoffee.com or call 480-488-0603.