BY MARIELLE D. MARNE | NOVEMBER 24, 2010
Open seven days, Dove Valley Animal Hospital is there for your pet
CAVE CREEK – Anyone with pets in this area knows there is a host of veterinary offices that offer professional and compassionate care. Yet, each is a little unique, a little special in its own way. Keep Reading...

NOVEMBER 24, 2010
For Goodness Sake celebrates 1st Anniversary on Sat., Dec. 4
CAVE CREEK – The First Anniversary Celebration of For Goodness Sake is Saturday, Dec. 4 from 9 a.m. – 4 p.m. Stop by their new location at 7127 E. Cave Creek Road to congratulate them and wish them well in their continued efforts to support local animal rescue groups.
Keep Reading...

4D Benefit Barrel Race set for Friday, Dec. 3
To benefit Horses Help Therapeutic Riding Center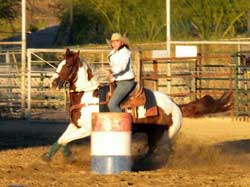 PHOENIX – Emily Nelsen and Hailey Schatzberg are seniors at AAEC-PV High School in Phoenix. Emily and Hailey, along with western saddle club, are hosting the 4D Benefit Barrel Race for their Senior Project to raise money for Horses Help Therapeutic Riding Center that services special needs children and adults. The 4D Benefit Barrel Race will be held at Western Saddle Club on Friday Dec. 3, at 5 p.m. There will be Vendors, Snack Bar, Raffle Items, Silent Auction, Barrel Race and tons of fun!

Come out and join us for a good night of barrel racing to raise money for special needs children and adults. All proceeds from silent auction and raffle tickets go to Horses Help, and half of entry fees go to Horses Help as well. The other half of the entry fees go to the barrel racers winnings. Visit www.4dbenefitbarrelrace.weebly.com for more information.

WHEN:
Friday, Dec. 3, 2010 Sign-Ups & T/O at 5 p.m.
Books Close & T/O end at 6:30 p.m.
Run at 7 p.m.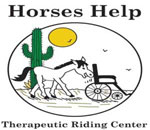 WHO:
Proceeds & donations go to Horses Help Therapeutic Riding Center (501c3)
WHERE:
Western Saddle Club of Phoenix
12425 N. 7th St. Phoenix AZ, 85001
(1/4 MI South of Thunderbird, on 7th St)
PRICES: (Cash Only on race day!)
Entries: Open $50, Youth $30
Arena Fee: $10
Time Only's: $3 each or 2 for $5

Contact Information:
Emily Nelsen at 602-472-0724 – Hailey Schatzberg at 602-432-7001
Donations are tax deductible. Donations are appreciated in any form! We acknowledge you at the race and get the word out about your generous donations!

Vendor Spots: $15 unless donating
Send entries/ make check payable to: Emily Nelsen, 15061 N. 28th St., Phoenix, AZ, 85032
Check www.theclassifiedhorse.com for entry forms and information.
All entries received after Nov. 26 will be charged a $10 late fee