NOVEMBER 24, 2010
For Goodness Sake celebrates 1st Anniversary on Sat., Dec. 4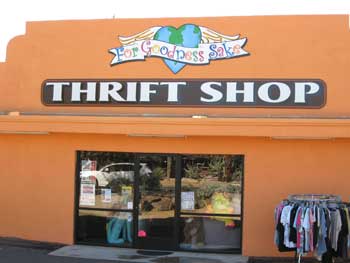 CAVE CREEK – The First Anniversary Celebration of For Goodness Sake is Saturday, Dec. 4 from 9 a.m. – 4 p.m. Stop by their new location at 7127 E. Cave Creek Road to congratulate them and wish them well in their continued efforts to support local animal rescue groups.

Enjoy live music, view the silent auction items (you won't believe them until you see them) and get a head start on your holiday shopping. Treasures you can't live without at prices that will make you smile shopping heaven!

Activities will include:
• Silent Auction
• Raffle Drawings
• Entertainment by Copper Skies, Music Duet (12 – 3 p.m.)
• Dr. Renee Waldman, Naturo-pathic Physician answers your questions (11 a.m. – 1 p.m.)
• Discounted Animal Readings by Animal Communicator, Debbie Johnstone – call for an appointment (10 a.m. – 4 p.m.)
• Woody's Workshop Cat Condos
• Appearance by Store Mascot, Gracie the Pot Belly Piglet
• Pet and People Bake Sale

For more information call 480-575-6760 or visit www.FGSAZ.com. The store is located at 6127 E. Cave Creek Road.