BY MARIELLE D. MARNE | NOVEMBER 24, 2010
Open seven days, Dove Valley Animal Hospital is there for your pet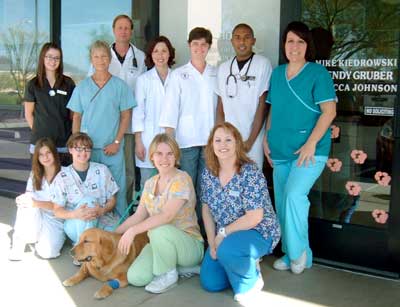 Come say hello and happy holidays to the staff at Dove Valley Animal Hospital on Dec. 4 at their open house.
Photo by Marielle Marne
CAVE CREEK – Anyone with pets in this area knows there is a host of veterinary offices that offer professional and compassionate care. Yet, each is a little unique, a little special in its own way.

Walk into Dove Valley Animal Hospital, PLC and immediately notice the attentiveness and warmth of the staff. The doctors will often greet clients when they are not in surgery or with patients. One truly feels valued and appreciated.

The vets – Drs. Mike Kiedrowski, Rebecca Johnson and Wendy Gruber – have over 30 years of experience among them. They see all types of animals, except for birds, pot-bellied pigs, monkeys and livestock. "We actually have one of the larger reptile practices in Phoenix," Dr. Kiedrowski explained.

So extensive is their knowledge they consult for AZ Fish & Game, Maricopa County Parks & Rec., US Fish & Wildlife and Phoenix Herpetological Society to name a few.

Services from neutering to microchips to rattlesnake vaccines are available for more traditional pets. "We work with every client on an individual basis to best take of their pet's needs," the doctors concur. Sometimes that requires getting a bit creative, such as clipping a dog's nails in the parking lot since he was too scared to come in! It got the job done and reduced the pooch's stress.

Dove Valley Animal Hospital will be holding a holiday open house on Dec. 4. Santa will be available to take pet photos. Refreshments will be served. Stop in and say hello and thanks to these wonderful professionals who have dedicated their lives to help our furry (and scaled) friends.

Located at 4815 E. Cave Creek Rd. (near the Fry's), emergencies can usually be seen; of course, appointments are encouraged. See www.dovevalleyah.com for more information or call 480-595-5731 for hours, directions and details on the Dec. 4 open house.