BY LINDA BENTLEY | NOVEMBER 24, 2010
Shop Walmart by Black Friday 2011?
Spur Cross and Walmart both good for Cave Creek
CAVE CREEK – About 100 people showed up last Thursday, including a few Carefree residents, Dr. Robert Bullington and his son John, who own the property to the north, to celebrate the official groundbreaking for Walmart. Keep reading ...

BY LINDA BENTLEY | NOVEMBER 24, 2010
Circle-K shoplifter has long history 'in the system'
CAVE CREEK – Adam Joseph Vance, 44, was booked into the Maricopa County Jail on Nov. 17 on misdemeanor charges of shoplifting and driving on a license that had been suspended, revoked or canceled. Keep reading ...

BY LINDA BENTLEY | NOVEMBER 24, 2010
Boxing trainer calls for Wilcox's resignation
'The damage to the victims is irreparable and it is unfair to permit the defendant to walk'
PHOENIX – When will the citizens of Maricopa County decide enough is enough of corrupt politicians?
Keep reading ...
BY LINDA BENTLEY | NOVEMBER 24, 2010
Board of adjustment grants variance, relief from litigious neighbor
'The plausibility of this being reconcilable is a fallacy'
CAVE CREEK – Attorney Michael Curley appealed to the board of adjustment on Nov. 16, on behalf of his client M&I Bank, which had taken over a property west of School House Road along the Skyline Drive alignment from the previous owner, for a variance allowing for an increase in lot disturbance from 25 percent to 39.8 percent. Keep reading ...
NOVEMBER 24, 2010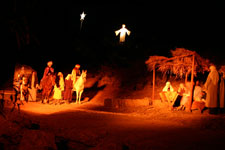 Celebrate the season at the Desert Foothills Christmas Pageant
The annual Desert Foothills Christmas Pageant will be held at 7 p.m. on Saturday and Sunday Dec. 4 – 5 at Spur Cross Ranch Conservation Area in Cave Creek, in a natural outdoor amphitheater. Admission is free. Parking is free. Bring a blanket to sit up close on the ground or a portable chair. Wear warm clothes and walking shoes. A flashlight is useful. For information call 480-488-7077. Click here for pageant volunteer information.