BY PETE MOHR | NOVEMBER 24, 2010
Gracie Goulder to U.G.A.!
On Nov. 10 Senior Grace "Gracie" Goulder signed her letter of intent to play shortstop for Head Softball Coach Lu Harris-Champer's Division I University of Georgia Lady Bulldogs, Athens, Georgia. She is the only daughter of north Scottsdale residents Andy and Charlotte "Charlie" Goulder and the younger sister of Falcon Baseball alumni Albie '04, Ollie '06, Jake '08 and Jackson '09. Congratulations to Gracie, an outstanding Lady Falcon, and to the baseball/softball "First Family" Goulders.


BY PETE MOHR | NOVEMBER 24, 2010
Meet the Football Falcon seniors … Ashton Keown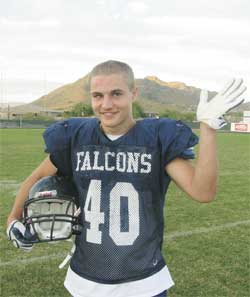 Ashton Keown ("Kee-own") is the last of 22 "profilees," but certainly not the least. He is the son of Marcey Fittig, Salt Lake City, Utah, and Phoenician Mark Keown. Ashton moved from Salt Lake to north Scottsdale to live with his uncle, CSHS Defensive Coordinator Matt Bradshaw, and his family and play at cornerback and outside linebacker for the Falcons.

"It's been good," he told Sonoran News.

Ashton was born Feb. 2, 1993 in Salt Lake and has a younger sister, Morgan, 13. As a freshman and sophomore at Salt Lake's Olympus High School, he played cornerback, but he did not see football action his junior year.

Joining the Falcons in mid-summer, Ashton told me he was glad to be playing football again, "cool to be on a different team." He added, "I found it easy to make new friends, especially my teammates Joree (Schneider), Nic (Erickson), Will (Bowers) and John (Leonard)."
On the third game's opening kickoff (Shadow Mountain), the 5'11", 170 lb. SWAT team member "took a bad angle on tackling the return man," and was sidelined for two weeks with a dislocated right shoulder. His personal goals were "to get better, become football smart and hit people!" He accomplished all three.

His most vivid memory from the season just ended? "I dropped a 'pick six' (interception) against McClintock!" His lasting memory as a Falcon: "fellowship with my teammates. They've all treated me great!" He acknowledges, "Football's made me a stronger person."

Ashton, a member of the Chess Club, describes himself as an "average" student. His favorite teacher? "Coach D." He joins Will "Lunch Pail" Bowers as a founding member of the "favorite subject" Lunch Club!

Graduating from Cactus Shadows next May, he plans to attend college, with no targeted first choice at present: "I'll start looking for colleges soon."

Ashton, I'm glad that CSHS and Falcon football have gone well for you. Now about your "Uncle Matt"