NOVEMBER 17, 2010
Cave Creek candidates
Carefree candidates
Wild West Days
Walmart
Senate appointments




With the Dec. 8 deadline approaching candidates for council seats in Cave Creek and Carefree are beginning to make themselves known.

In Cave Creek it appears everyone on the current council is running to stay in office, except Ralph Mozilo who likely will retire.

This leaves one opening, and so far, Shelly Anderson who has done an excellent job on the planning commission has pulled a packet as has local firebrand Alice Kunka a local business woman who has been a supporter of T.C Thorstenson's attempts to upzone his property north of the now empty Hammerhead Jack's. More recently, ex-Councilman Thomas McGuire has pulled a packet and said he was going to run for council. McGuire was tied with Adam Trenk and Trenk won by picking a winning card.

Ex-citizen Arek Fressadi (he lives in Tucson) has said he will run for mayor against current incumbent and mayor for the last ten years, Vincent Francia. Whether Fressadi has been a citizen for the last one year is in question but he has pulled a packet. Others have decided Francia fits the ticket for Cave Creek and possible candidates will not combat him as opponents for the mayor's office.

In Carefree, current Mayor David Schwan has pulled a packet to run as mayor as has Councilman Doug Stavoe. A word of advice for GOBs, if you again try to blacken the names of Stavoe's children you will have opened the door for retribution. This will be the first time Carefree citizens can vote for Mayor thanks to Councilman Bob Coady's initiative which won with 73 percent of the vote.

Councilmen Robert Coady and Peter Koteas, Vice Mayor Glenn Miller, John Traynor (who ran against Schwan in the recall election) and Realtor Michael Ferrar have pulled packets.

Council candidate Jim Pierce (who has run for council in the past) has turned in his packet and signature petitions. So far, incumbent council members Bob Gemmill and Susan Vanik have not pulled packets.

Although time is running out, others are expected.

After Coadys winning initiative GOBs decided to "improve" the bill with one of their own. Ex-Mayor Wayne Fulcher and ex-Councilman Don Snyder wrote an initiative, which won, requiring a majority of votes cast for mayor to win the primary. Fulcher was one of the three who quit rather than be in a run off election. Well placed rumors indicated Fulcher fired long time Town Administrator Jon Pearson for telling Fulcher not to be against direct election of the mayor. Pearson was right, of course.

It is likely the recent "secret" meeting in the water works building was a strategy session among Schwan, Vice Mayor Glenn Miller, Councilman Bob Gemmell, ex-Mayor Wayne Fulcher, ex-Vice Mayor Lloyd Meyer and ex-Councilman Greg Gardner. The main subject, most likely, was a GOB choice of who would run for mayor.

Why did they choose Schwan? They think he is a winner since he beat the recall. We'll see if the citizens are convinced he is a laughing stock or not. After all, it is appropriate to sympathize with people with dementia but not to vote them as the town CEO. Remember, he couldn't remember what the secret meeting was about and said he couldn't even remember what he had for breakfast. Poor soul.

Sonoran News will hold forums for both towns as we have for 15 years. The forums will be scheduled in late January of 2011 since the primary election is March 8. As in the past, Carefree Architect Shelby Wilson will be the moderator.

Wild West Days
I have only spoken to a couple of restaurant owners who did not do a land office business during Wild West Days, which was surprising since I had talked to others that did record business. So it obviously was a hit with some restaurants and not others. Our other retail stores have mixy results, some say they did better some say they didn't. It may have been nearby events and maybe some of the restaurants' loyal customers stayed away because of the traffic.

If you have results and reasons to share give us a call, e-mail us or send a letter. The plan is to have an even better Wild West Days next year.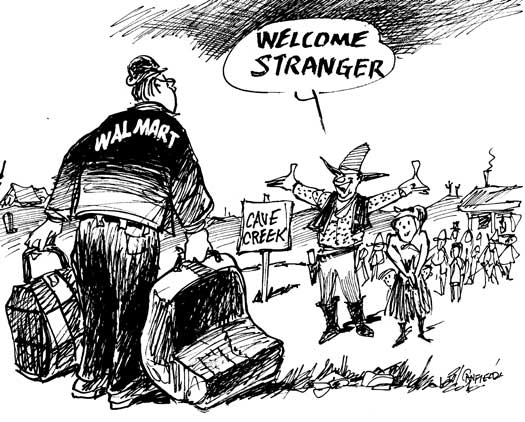 Walmart
In last week's edition we published the following front page story "Walmart to break ground. Walmart will be holding an official groundbreaking ceremony at 4 p.m. on Thursday, Nov. 18. Join Todd Newman and Terry Smith, who co-chaired the political action committee supporting Walmart in the referendum vote, which passed by 76 percent, Mayor Vincent Francia and representatives from Walmart for refreshments at the site to commemorate this momentous occasion." Access wil be through 56th Street.

Since then we have received a number of requests for more information and have included a link below the article to a map for those who don't know where the site is. We are on sonorannews.com and the Nov. 17 issue will be published there. This brings up a point: Sonoran News is a weekly publication and we publish weekly. We print on alternate weeks but are online weekly.

Citizens hope revenue from Walmart sales will provide a basis for a better financial footing for Cave Creek, although an improving economy is key to renewing markets like real estate and other growth industries. Anyway WELCOME WALMART, MAY YOU PROSPER IN CAVE CREEK!

Senate President-elect announces Committee Chair Appointments
(PHOENIX-STATE CAPITOL) - Senate President-elect Russell Pearce announced last week the following standing committee chair appointments for the 50th Legislature, which will begin its work in January of 2011:

Appropriations – Sen.-elect Andy Biggs
Appropriations Subcommittee on Rural Issues, Education & Natural Resources – Sen.-elect Don Shooter
Appropriations Subcommittee on Health and Welfare – Sen.-elect Lori Klein
Appropriations Subcommittee on Transportation & Criminal Justice – Sen.-elect Steve Smith
Water and Rural Development – Sen.-elect Gail Griffin
Border Security, Federalism, and States' Sovereignty – Sen. Sylvia Allen
Economic Development and Jobs Creation – Sen.-elect Michele Reagan
Commerce and Energy – Sen. Al Melvin
Education – Sen.-elect Rich Crandall
Finance – Sen.-elect Steve Yarbrough
Government Reform – Sen. Frank Antenori
Healthcare and Medical Liability Reform – Sen.-elect Nancy Barto
Judiciary – Sen. Ron Gould
Natural Resources and Transportation – Sen. John Nelson
Public Safety and Human Services – Sen. Linda Gray
Veterans and Military Affairs – Sen.-elect Adam Driggs
Banking and Insurance – Sen.-elect John McComish
Rules – Sen. Russell Pearce

In addition to those standing committees, President-elect Pearce will appoint Sen.-elect Rick Murphy to chair the statutory Joint Legislative Audit Committee

My note to Senator Pearce:
Russell I can't believe you put Nancy Barto in charge of anything except maybe to clean toilets. Health care and Medical Liability reform? She is literally owned by the medical establishment. She fronted for three dangerous bills, HB 2154, which would have cost anyone living on a private road millions of dollars. She pissed off ophthalmologists by expanding prescription drugs for optometrists that are dangerous to patients and which they are not trained for. She snuck in a bill which may be illegal that allows CCUSD to use tax free bonds which were outdated. What are you thinking? I will send you articles on these three incompetent bills.
–Don Sorchych