BY MARIELLE D. MARNE | NOVEMBER 10, 2010
Troon Eyecare is excellent on the eyes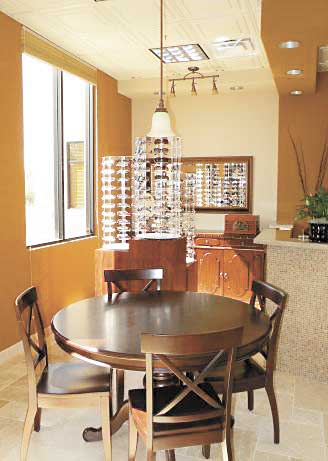 SCOTTSDALE – Eyes, those windows to the soul in poetic prose, deserve no less than optimal care. Given his more than 25 years of practicing optometry, Dr. Quint DiGiacomo, D.O. certainly knows this and takes his job, and your eyes, seriously. First and foremost, he strives to offer a relaxed atmosphere coupled with professional services.

Many patients know the frustration of arriving early for one's doctor appointment, only to be seen well after one's scheduled time. "We have very much a small town feel in our office," DiGiacomo explained. As such, they don't keep their patients waiting forever to see the doctor. "I respect my patients' time and figure theirs is just as important as ours." Clients of Troon Eyecare can count on prompt and individualized attention.

Dr. DiGiacomo is aware his neighbors are value-minded, so just as important as an inviting ambiance is reasonable costs for both exams and eyewear. Quality eyecare at a reasonable price, it's as simple as that at Troon Eyecare.

In addition to a thorough eye exam, clients can choose from a terrific line of name brand and designer frames. Think Christian Dior, Prada and LaCoste for adults; Pez and Jalapenos for the little ones. "They're cute and colorful," DiGiacomo offered.

"Of course, clients are welcome to use their own frames, too," he added.

Contact wearers have many options as well for brand names – Accuvue, Proclear, and Frequency 55, among others. And while most folks who wear glasses can safely see the optometrist every other year, contact users are strongly advised to visit annually. "When you're putting something on your eye, you really don't want to chance it with corneal ulcers, abrasions or infections," DiGiacomo stressed.

Whether you need to go annually or every other year, trust your eyes, your vision, to someone who is professional, competent and compassionate. Troon Eyecare is truly a family affair; not only will patients find Dr. DiGiacomo in the office, but his wife, Stacy, also offers her assistance.

Troon Eyecare is located at 10025 E. Dynamite Blvd, Ste. B-115 in Scottsdale (behind Chase Bank). Office hours are 9-5:30 M-F, or by special appointment. Call 480-419-7778 or visit www.trooneyecare.com for details.