NOVEMBER 3, 2010
Wildlife photo contest winners announced


PHOENIX – A bighorn sheep gazing into the depths of the Grand Canyon and a Sonoran whipsnake emerging from the shadows are among the 13 winning images of this year's wildlife photo contest, sponsored by the Arizona Game and Fish Department.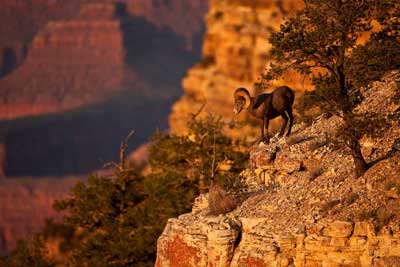 The grand prize winner of the contest, which attracted more than 700 entries from across Arizona and beyond, is Kiril D. Kirkov of Grand Canyon, Ariz. He took home the top honor with his image of a bighorn sheep at the Grand Canyon.

The other 12 winning photographers are: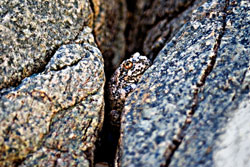 • Suzanne Anderson, Tucson, Ariz.: Western banded gecko
• Ann Beisser, Scottsdale, Ariz.: house finch
• Michael Burm, Mesa, Ariz.: pronghorn
• Jim Burns, Scottsdale, Ariz.: muskrat
• Gilbert Gustavsen, New River, Ariz.: canyon tree frog
• Laurie Nessel, Tempe, Ariz.: Sonoran whipsnake
• Stephen Petrie, Scottsdale, Ariz.: gray fox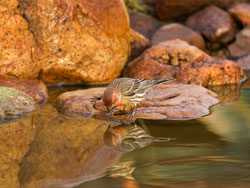 • Adam Rodriguez, Scottsdale, Ariz.: Costa's hummingbirds
• Michael Shoop, Tucson, Ariz.: elk
• Rhonda Spencer, Tucson, Ariz.: great horned owl
• Ed Taube, Phoenix, Ariz.: great blue heron
• Bruce D. Taubert, Glendale, Ariz.: Mt. Graham red squirrel

Due to the talent of Arizona's wildlife photographers, and the high number of outstanding entries received, the department has chosen honorable mention images as well. These photographs are featured in an online slide show on the photo contest's web page, www.azgfd.gov/photocontest.

The 13 winning works of art, which celebrate the diversity of Arizona wildlife, are being published in a full-size 2011 calendar. In addition to prize-winning wildlife photography, the calendar includes handy dates and reminders for everyone who enjoys Arizona's many outdoor recreational activities.

The calendar is no longer being sold as a separate publication, as it has been in past years. This year, the calendar will be published in the November–December issue of Arizona Wildlife Views magazine, the department's award-winning magazine about wildlife and outdoor recreation. In addition to the 24-page calendar, this issue of Arizona Wildlife Views magazine will include a "Get Outside Guide" loaded with useful information to help people experience the great outdoors.

Those wishing to own the calendar are encouraged to subscribe to the magazine, which costs just $8.50 for six issues (one year). Subscriptions are available at www.azgfd.gov/magazine or by calling (800) 777-0015.
Learning onstage
Maricopa grant gives PVCC students an opportunity to dance in the Nutcracker
PHOENIX – Paradise Valley Community College dance students will take the stage in the 2010 production of Tchaikovsky's Nutcracker at the Herberger Theater Center in Phoenix Nov. 26-28. The Nutcracker is an annual dance production presented by the non-profit Ballet and Friends and Master Ballet Academy to support Toys for Tots.

PVCC dance program director Sonia Valle and Nutcracker artistic director Slawomir Wozniak were awarded a Maricopa Community College District Learning Grant to cast 15 PVCC dance students into the ballet performance. The grant supports project that enhance student learning, promote student success, and further innovation in teaching and learning. Wozniak, a professional dancer and owner of Master Dance Academy, is a ballet instructor at PVCC.

"Our students will see how a major production is put together from start to finish and gain insight into how much time, energy, commitment and dedication it requires from the artistic director, choreographers and dancers," Valle said. "At the same time, they will interact with professional dancers and be inspired to continue their training and improve their technique. They will experience the artistry of professional dance and learn what it takes to be a good performer."

In addition, the students will discover the technical aspects of production, including lighting, music, costumes and makeup, and bring these learning experiences back with them to the classroom to share with other dance students.

"Students in the PVCC dance program love dancing and are eager for opportunities to learn more. Wozniak has brought artistry and quality of training in ballet technique to the college," Valle continued. "He has developed in our students an interest in ballet as an important aspect of their dance training. He is having a tremendous impact on our students by helping them to shine and to succeed within our program and by providing them more professional-level opportunities."

For evening and matinee show times and to purchase tickets to the Nutcracker, go to www.herbergertheater.org/nutcracker. Advance tickets cost $28.60/adults; $21.50/students with ID; $8.50/children 9 and under; $25.50/police/fire/military with ID; or $33.50 at the door.

For more information about PVCC's dance program, go to www.paradisevalley.edu/fitness/dance or contact Valle at 602-787-6808.