BY PETE MOHR | NOVEMBER 5, 2010
CSHS Swim/Dive qualifiers to Kino Jr. High Pool (Mesa) for 4A-I State Championships
CSHS – If the "Falcon Pride Marching Band" travels to McClintock High School for tonight's game between the Falcons and the hosting Chargers, fans will see Songee Barker performing her twirling routine with a baton flaming at both ends. How do you do that, Songee?! Keep reading ...
BY PETE MOHR | NOVEMBER 3, 2010
Falcs' two-point try 'no good!' #2 Queen Creek escapes with win, 33-32
'Birds to McClintock for Nov. 5 regular season finale; State 1st Round at home hangs in Nov. 12 balance
QUEEN CREEK – I'm confident that more than a few readers remember actor James Garner as "Maverick" in the 1950s-60s TV series and mid-1990s movie of the same name. Garner would devilishly grin and come forth with one of his signature pronouncements: "A faint heart never filled a flush!"

Plus: Falcon Scoring & Stats and 'Charging to the Chargers' Keep Reading...


BY PETE MOHR | NOVEMBER 3, 2010
#1 Volleyball ousts #16 Kellis; Host #9 Sunrise Mtn. Thurs., 7 p.m.
CSHS – On Nov 2, #16 Raymond S. Kellis was not supposed to beat #1 Cactus Shadows in their 1st Round State match – and they didn't. But with their athletic director Dale Nicol ("A.D." at CSHS, 2001-2005) in the stands, the Lady Cougars played the Lady Falcons plenty tough in the first two games before losing 17-25, 18-25. With too much firepower up front, the LadyBirds closed out the match, 25-11. Keep reading ...


BY PETE MOHR | NOVEMBER 3, 2010
Meet the Football Falcon seniors … Ryan Jacobson

The "bad news" is that several weeks ago, reserve linebacker Ryan Jacobson was suspended from the team. He takes full responsibility. "I missed a couple of practices and had some discipline issues at school. I knew I had to improve my habits – and I set out to do so." Keep Reading...


BY PETE MOHR | NOVEMBER 3, 2010
Congrats to the Outback Steakhouse winners at Homecoming!
At halftime of Homecoming Night, Friday, Oct. 15, there were two big winners! Creeker Ross Richardson (photo, right) and "The Ac Attac" (Kate Accola - photo below) successfully booted 35-yd. field goals to win a year's free eats at Outback Steakhouse. Hey, Creeker Matt McMahon (who sponsored the contest at halftime of each home game), that's a lot of bloomin' onions! Yum!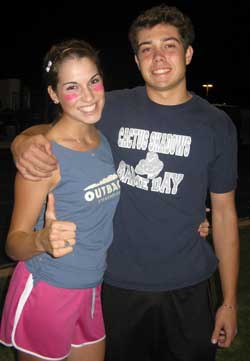 Rooting on Richardson were (front, l-r) Miley Reynolds, 11; Taylor Richardson, 11; Tyler Reynolds, 8; and Grant Richardson, 6. Standing with Dad Ross was Peyton Richardson, 9.

Accola credited her winning kick to the coaching of her "main man" (that'd be Tommy Murphy, in photo) and Falcon Assistant Coach Mark Segal.

Richardson confessed to Sonoran News that in his younger days, he'd "played a little football." Thanks to Matt McMahon and Scottsdale/101 Outback Manager Demi-Jon Merlina for backing such a fun contest.





XC Boys, Girls to Nov. 6 State!
Cave Creek Golf Course – Green Way & 19th Ave.: Guys, 11 a.m.; Gals, 11:30 a.m.
No more "Regionals" for Cross Country. Last Saturday, Oct. 30, the Harriers ran in "a tougher qualifying competition" (Head Coach Paty Egan) "Division I, Section II" of the Sectional Championship Meet at City of Phoenix Cross Country Park (near Sandra Day O'Connor High School).
The Lady Harriers were runner up to Notre Dame, with sophomore Dani Zalewski's 5th place finish earning her 1st Team All-Sectional honors. Classmate Terri Baker came in 13th, good enough for 2nd Team All-Sectional. Sophomore Ethan Homan's 3rd (1st Team) and junior and Boys Co-Captain David Tze's 11th (2nd Team) paced the Boys to a 3rd place team finish behind Sunrise Mountain and Prescott.
It's on to the State Championships for both squads, Saturday morning, Nov. 6, at Cave Creek Golf Course. (Location and starting times above.) Congratulations, Cross Country athletes. Good luck at State!