BY MELANIE HABER | OCTOBER 27, 2010
Animal Health Services sponsors Pet Costume Contest
Bring your pet for food, fun and prizes!
Animal Health Services again is sponsoring the Cave Creek Wicked pet costume contest, Saturday, Oct. 30 at 2:30 p.m. in the Document House parking area. All pets will receive a prize, a free raffle ticket and the top winners will receive an Olympic Paw Medallion. Register your pet at www.ahsvet.com keyword "Wicked" or sign up by 2 p.m. the day of the event.

In 2009, Cave Creek Wicked's Halloween event was such a great success the Cave Creek Chamber of Commerce decided to repeat it! With an estimated 6,000 attendees, the Cave Creek Chamber of Commerce is excited to present a command performance this year to help support our community and to provide a safe and fun Halloween event for children, pets and adults alike. The chamber is making Cave Creek Wicked the premier Halloween destination (for community-wide event details visit www.cavecreekwicked.com)

Last year, the pet costume contest had more than 45 dog entrants, one sheep and one headless horseman (horse included); 50 children/family costume entrants and 14 horses for the equine costume contest. This year, the pet area will feature pet vendors including:
• Pup-Tent Pet Boarding
• Modern Pet Furtography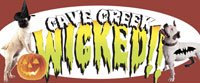 • Liberty Wildlife
• Jack Ass Acres Dog Park
• The Fetch Foundation
• MayDay Pitbull Rescue
• Orphans of Katrina Books
• Animals Kingdom Learn Pet CPR & First Aid
• Trupanion Pet Insurance
• Lorenzo's Dog Training
• AHS Nutrition Booth/pet treats
• Raffle "Tick Pit" Prizes
• Animal Health Services – "Ask the Vet"
• Tender Paw Days Spa
• Mummy Dog Vending

Also meet Buster, the 15th dog provided by Merial animal health company. For more details or questions about the pet costume contest contact mhaber@ahsvet.com or call at 480-488-6181.

BY MARIELLE MARNE | OCTOBER 27, 2010
More than just a dog: Bolognese of Phoenix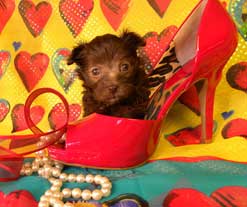 Your perfect canine companion may be one with which you're not very familiar. Mary Alice Davis, of Bolognese of Phoenix, is certain you will fall in love with her Bichon Bolognese, Bolonka and "BeBe" (a hybrid between the two) puppies the moment you look into their expressive eyes. You will melt!

The Bolognese boasts a rich history, and while its past is important, it's the future you will share that will sway you that this is the pet. Cuteness and loyal companionship are part of most dogs' DNA, but the pups from Bolognese of Phoenix are also calm (not barkers unless something is afoot), dander- and shed-free (ideal for those with allergies), a low grooming commitment (brush at least every other day and consider an annual shave down), tough-as-nails (no sissy-small dogs are these), compact (making them terrific travel companions) and long-lived (averaging 15 to 20 years!).

These attributes are no doubt enough to convince anyone a dog like this should be curled up next to them on the sofa. And, Davis feels the same way. She's devoted to her dogs. They are her passion, her life's dedication, 24/7. She knows how any of these dogs can transform your life. One named Brian transformed hers!

"To me, there's nothing worse than sitting home alone, and being lonely, when you don't have to be," Davis explained. "The Bolognese was bred as a lady's lapdog. They want to be right beside you." Who could not adore that? Countless studies reveal how a pet enhances one's life, and these dogs could not be better companions to abate loneliness.

Given Davis' high standards, from nutrition to vaccines, the Bolognese of Phoenix puppies are bred of the highest quality thereby producing pups with optimal health. "You don't have problems with my dogs," Davis added. Basically, they simply grow old and wear out.

Any pet is a commitment, in time, money and emotions, so Mary Alice Davis is happy to answer any questions not addressed on her website (bologneseofphoenix.com) and welcomes those interested in adopting a puppy to meet them. While she's only had it happen once in unusual circumstances, Davis will take back a pooch if it doesn't work out. The economy may be challenging, but that makes this time even more critical to having something that loves you unconditionally and will stick beside you in the good times and the bad.

Call Bolognese of Phoenix today at 602-266-9270 to find the precious, soft, wiggly love of your life!