OCTOBER 27, 2010
The Cave Creek Smokehouse is now open in Frontier Town!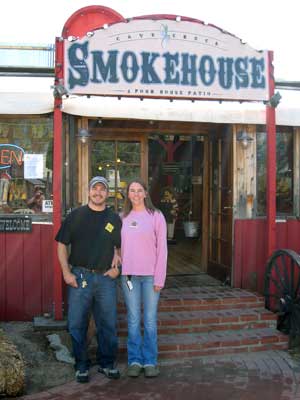 Stop by Frontier Town for a great meal and your favorite libation and greet the new owners of The Cave Creek Smokehouse, Kyle and Kirsten Huebsch.
CAVE CREEK ˝ Cave Creek locals and visitors alike have a new restaurant and watering hole to call home. The Cave Creek Smokehouse & Pour House Patio, 6245 E. Cave Creek Rd., has opened in Frontier Town in the heart of beautiful Cave Creek, Ariz.
Sneak in and check out their new menu, great staff and friendly atmosphere before the grand opening in a couple of weeks!

Many will remember it as the home of Crazy EdÝs Satisfied Frog, which closed in 2008. The location has gone through several owners and a name change that while somewhat typical of quirky Cave Creek has lead to confusion among patrons.

At last, there is hope. Meet Kyle and Kirsten Huebsch, long-time residents of the area, a young and hip couple who will bring fresh excitement and enthusiasm to the location. They have kept the tradition of offering great food and great times. ýBoth Kirk and I are really excited to have a restaurant in a place we call home. Cave Creek is a wonderful town that has so much to offer. We invite everyone to come and see us.ţ

The menu features favorite dishes visitors seek when coming to Cave Creek to dine such as ribs, brisket, pulled pork and hardy burgers. However, The Cave Creek Smokehouse & Pour House Patio brings new edgy offerings: Smoked Brisket Lasagna ˝out of this world! Chicken Chipotle Pasta ˝ truly the spice of life! Pan-seared Halibut ˝ your taste buds will love you! The famous Broasted Chicken is still offered every day with all-u-can eat on Sundays.

The Pour House Patio features an outdoor, covered bar, a great stage for live music, televisions and plenty of tabled seating (Cigarette, cigar and pipe smoking are allowed). Come for Open Mic Night every Wednesday from 7 ˝ 10 p.m. Bring the gang to watch your favorite teams compete then stay for live music throughout the weekend featuring great regional talent.

For those requiring a location for private events, The Smokehouse features a secluded event area accommodating over 300 people, including a stage, water features, covered and patio seating as well as a full bar.

Come discover the dining gem of Cave Creek, The Cave Creek Smokehouse & Pour House Patio ˝ dynamic new owners, a place for food, fun and lively entertainment, all nestled in lovely Cave Creek, Ariz.

The Cave Creek Smokehouse is open Monday ˝ Thursday from 11 a.m. ˝ 10 p.m., Friday and Saturday from 11 a.m. ˝ 1 a.m. and Sundays from 9:30 a.m. ˝ 10 p.m. For more information and reservations call 480-488-3317.
OCTOBER 27, 2010
'Matt the Electrician' performs live at C4 Friday, Nov. 5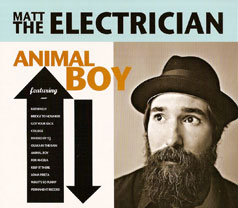 Matt Sever, fondly known as "Matt The Electrician," performs a live concert at Cave Creek Coffee Company on Friday, Nov. 5 showcasing soulful vocals from his newest album titled, "Animal Boy." Sever's hit songs include, "Faithfully," "Bridge to Nowhere," "Half Magic," 'My Dog" and "Change the Subject," among others. The performance is at 7:30 p.m.; doors open at 7 p.m.

Sever explains his background as, "Once upon a time, I was a young man who lived in Austin, Texas who worked as a journeyman electrician. Every morning, when it was still dark outside, I would go to work, and wire houses all day long in the blistering Texas heat. Sometimes, with no time to shower or change clothes, I would go straight to the bars to play songs for whoever would listen. I soon found nobility in this, later gaining my performance name as "Matt The Electrician." I decided to spend more time writing and playing songs and eventually became a musician full time.

Sever has recently gained acclaim by the Austin Music Awards being nominated in categories such as "Favorite Artist" and "Best Live Show."

Tickets are $15 in advance online or $18 at the door, Cave Creek Coffee Company,
6033 E. Cave Creek Road.

For more information please call 480-488-0603 or visit www.cavecreekcoffee.com.