BY PETE MOHR | OCTOBER 6, 2010
Falcs blow out Flagstaff, 61-0
#8 'Birds vs. #6 'A.J' here, Oct. 8
FLAGSTAFF – This writer is seldom at a loss for words; but four nights after the Falcons destroyed the Oct. 1 Flagstaff Eagles' Homecoming, 61-0, "Crow" (who predicted Falcons by 54-10) opts for the charitableness of listing the highlights hereinafter. Keep Reading...

BY PETE MOHR | OCTOBER 6, 2010
'The Terrific Ten' run stronger!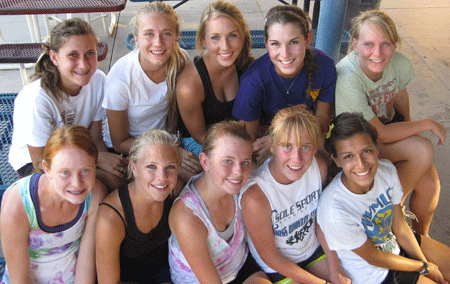 After Sept. 27 afternoon's practice, Girls Cross Country Captain Kate Accola emphatically stated to Sonoran News, "Our team is only as strong as our weakest link – and we don't have any weak links!" Spoken like my feisty favorite, "The Ac Attak!" This season, the Arizona Interscholatic Association's recent restructuring for 4A-I competition will make the road to State tougher, but "The Terrific Ten" (above) will be there! (Back, l-r) Dani Zalewski (SO), Jenny Gormley (JR), Saige Williams (JR), Capt. Accola (SR), Nicole Nathern (SR); (front, l-r) Savannah Alexander (JR), Sloane Myers-Lenz (FR), Mackenzie Brown (SO), Terri Baker (SO), Ivana de la Vera (SO). Head Coach Patty Egan's Lady Falcons were runner-ups in 2009: they have their sights determinedly set on bringing Cactus Shadows its first Cross Country State Championship. Only one month away, Ladies!
BY PETE MOHR | OCTOBER 6, 2010
Sports briefs
• 'Denim 'N Diamonds' Sunday Eve!
• Frosh, Jr. Birds vs. Apache Junction
• Cox7 to air Boulder Creek vs. O'Connor
Keep reading ...
BY PETE MOHR | OCTOBER 6, 2010
Volleyball holds to #2 ranking; At Goldwater Tourney, Oct. 8-9
Prescott ends Sunnyslope's win streak
CSHS – New high schools, new sports teams axiomatically don't fare very well against older schools and established programs like Cactus Shadows' Volleyball Lady Falcons.
Keep reading ...