SEPTEMBER 29, 2010
New October artist exhibit at Studio C4 by Geoff Gildner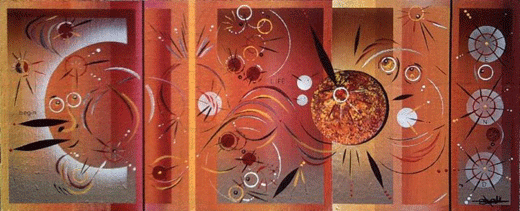 CAVE CREEK – Throughout the month of October, Studio C4 Gallery at Cave Creek Coffee Company introduces a new artwork exhibit by Tempe resident, Geoff Gildner called "The Subtleness Of Vibrancy: A Journey of Color and It's Supporting Cast."

Gildner's personal and professional experiences in spirit and memory are the catalysts and fodder for what his artwork represents today. Gildner is a self-taught artist who says, "The artwork is about continual discovery … sometimes for the second time. It's often playful, yet thought provoking, and at times, deeply evocative. Gildner's work surrenders to the elemental application of 'mediums' and the depth of the soul – a unique expressiveness exposed, which mirror and elucidate a present sense of being. The exhibit showcases innovative paintings on glass, canvas and wood.

Gildner says, "While I enjoy working with ALL materials, I find that glass is the most intriguing 'support' to work with. The creative process deviates from normal painting technique, in that I paint foreground to background; using the back of the glass to add color and texture. A viewer can touch the front part of the painting/glass, and it is just that, glass, while all the elemental factors of the creation are on the backside of the glass."

Honesty defines his contemporary expression; the focal purpose of the 'story'/ 'Artwork' is portrayed simply, yet, abstraction lends complexity to interpretation. He has developed an artistic vocabulary and within the varied vastness of Geoff's expression and ability, he has discovered the limitless soul of the human condition and related cultural environment. Gildner's study of special relationships and design enables him to merge space effortlessly with light, color, reflection, perspective, symmetry, and the dynamics of many 'unseens' adding a humanistic harmony of emotion when a dimensional focus intersects that of another – capturing a collision of beauty, both in time and place.

ildner has a Bachelor of Arts degree in History from Arizona State University and core education in cultural arts, architecture, landscape architecture, and urban planning. Painting has become a 'surprising' yet central aspect to Geoff Gildner's life and an endeavor that has been embraced with complete focus and passion as an "Artist." Gildner's highest accolades include an exhibit held in the lobby of ASU Gammage Auditorium during the run of the performance Phantom of the Opera; October/November 2009; and participating in a group show in Prague, Czech Republic in 2004.

The popular Cave Creek Coffee Company also houses an art gallery known as Studio C4, open on Sunday and Monday from 6:30 a.m. – 3 p.m. and Tuesday-Saturday from 6:30 a.m. – 10 p.m. Studio C4 is located at 6033 E. Cave Creek Road Cave Creek. For more information visit www.cavecreekcoffee.com or call 480-488-0603.