BY LINDA BENTLEY | SEPTEMBER 22, 2010
RID files $40 million lawsuit to clean up contaminated groundwater
'RID had no alternative … because many of these parties have resisted multiple invitations to voluntarily come forward and do the right thing'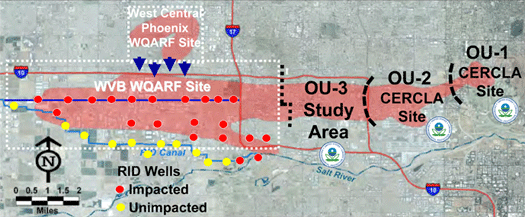 PHOENIX – In late July, the Roosevelt Irrigation District (RID) filed a complaint in federal court (Roosevelt Irrigation District v. Salt River Project) against a large number of potentially responsible parties (PRPs) identified as possible contributors to groundwater contamination in the West Valley.

The defendants were identified through state and federal records and reports documenting the release of toxic chemicals at facilities owned and operated by the named defendants.
Attorney David Kimball of Gallagher & Kennedy, the Phoenix law firm representing RID, stated, "RID had no alternative but to file the lawsuit because many of these parties have resisted multiple invitations to voluntarily come forward and do the right thing."

RID was formed in 1927 as an irrigation district and political subdivision of the state of Arizona, using 50 miles of main canals and 185 miles of lateral canals to deliver water to its customers in the West Metropolitan Phoenix area.

The impacted and threatened wells are located in what the Arizona Department of Environmental Quality (ADEQ) refers to as the West Van Buren Area (WVBA) Water Quality Assurance Revolving Fund (WQARF) Site, the state's version of a Superfund site.

This particular site has been under study since 1987 and, according to ADEQ, groundwater contamination from the Motorola 52nd Street Federal Superfund Site and the West Central Phoenix (WCP) WQARF Site is also contributing to the groundwater contamination in the WVBA WQARF Site, generating one of the largest plumes of contaminated groundwater in the country.

The WVBA WQARF Site is bounded by McDowell Road on the north, Buckeye and Lower Buckeye roads on the south, 7th Avenue on the east and extending beyond 79th Avenue to the west.

RID Superintendent Stan Ashby stated, "We have been waiting a long time to see this situation set right. Water is a precious natural resource. We all need to take our stewardship duties very seriously."

RID owns and operates a series of groundwater wells in the western portion of Maricopa County and, according to the complaint, over 20 of its wells have been impacted by hazardous substances, which include trichloroethene; tetrachloroethene; 1,1,1-tricloroethane; 1,1-dichloroethane; 1-1-dichloroerthene; 1,2-dichlorethane; cis-1,2-dichloroethene; and methyl tertiary butyl ether.

An additional 11 of RID's groundwater wells are threatened by the same hazardous substances.

RID says it was not responsible for releasing any of the above named substances or any other hazardous substances into its wells and identified the potential sources of contamination by obtaining and reviewing publically available documents, reports and sampling data available from ADEQ and the U.S. Environmental Protection Agency (EPA) relating to the WVBA WQARF Sites and the Motorola 52nd Street Superfund Site (M-52).

The approximately 70 defendants identified through public records as PRPs in the lawsuit include government agencies and political subdivisions such as the U.S. Department of Defense, U.S. Department of Energy, city of Phoenix, Maricopa County, Maricopa County Community College District, Rio Salado Community College and Salt River Project Agricultural Improvement and Power District, along with a host of well-known corporations, such as Chevron USA, Honeywell International Inc., Corning Incorporated, Alcatel-Lucent USA (formerly ATT), Holsum Bakery, Maricopa Land and Cattle Company, Union Pacific Railroad, United Parcel Company and Phoenix Newspapers (publisher of the Arizona Republic and may be the reason most people haven't read about this lawsuit), and a host of other high profile as well as lesser known companies.

The contaminated groundwater underlying each of the M-52, WVBA and WCP sites is moving in a southwesterly or westerly direction toward RID's wells and, according to the complaint, the contaminated groundwater is hydrologically connected to the groundwater pumped by RID.

The complaint asserts, "If left untreated, the contaminated groundwater is a danger to RID, public safety and health, and a valuable drinking water supply."

In response to the contamination, RID must pump and treat the groundwater in its wells to remove the contamination before delivering the water to its customers.

RID designed an Early Response Action (ERA) with the objectives of treating the groundwater contamination in certain wells in accordance with state law; protecting public health from groundwater contamination; protecting RID's unimpacted wells; providing a clean water supply, and reducing the costs of the final remedy for the groundwater contamination.

All actions taken by RID must be authorized by statute and approved by the Director of ADEQ, the remedial action criteria of which the ERA meets.

RID states it has incurred over $2 million in necessary costs to date and expects to incur over $40 million in necessary costs in the future in responding to the contamination of its wells and completing the work set forth in the ERA.

RID is also charging defendants with quasi contract, unjust enrichment, restitution, nuisance and trespass.

The West Valley Groundwater Cleanup Coalition (WVGCC) was formed to coordinate remedial actions between RID and the PRPs.

If RID did not pursue its own response action to the contamination, it could lose control over its well field/operations, the EPA would pursue a separate remedy and ADEQ could pursue separate remedies.

Some of the objectives outlined in Phase 1 of RID's plan include protecting health and the environment by reducing volatile organic compounds (VOCs) in groundwater, preventing VOCs from contaminated groundwater to air, maintaining plume containment, protect non-impacted RID wells, mitigating VOC impacts to RID wells, preventing further groundwater degradation, beginning restoration of groundwater, treating highest concentrations with fail-safe treatment technology, providing drinking water supply.

Preliminary costs to implement Phase 1 are estimated at $30-$35 million, with annual operation and maintenance (O&M) costs at $4-$5 million.

Phase 2 deals with irrigation end use, utilizing less expensive remedial measures (air stripping, blending, well replacement) prior to discharge to main canal for continued irrigation use.

Preliminary capital costs are estimated at $10-$15 million, with annual O&M costs at $0.5-$1.5 million.

A variety of proposed settlement options have been offered to PRPs and, according to Lawrence Moor of Lawrence Moor & Associates, handling the public relations as part of RID's Response Action Team, there have been ongoing discussions and negotiations with some of the named defendants.

RID must comply with a host of standards under state and federal regulations in order to deliver water to its customers and is only seeking to recoup the costs of remediating the groundwater contamination from those who caused it.

Visit www.wvgroundwater.org for more information.