SEPTEMBER 22 – 28, 2010
A to Z Equipment Rentals and Sales celebrates 50 years with a 4th location in Avondale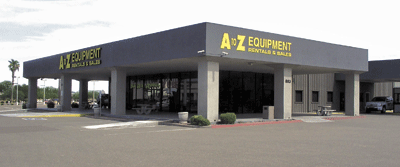 A to Z Equipment Rentals & Sales, a locally owned and family operated equipment rentals and sales firm, founded in Phoenix in 1960, is announcing the establishment of a 4th location which opened Sept. 13, 2010. The new rental yard is located at the SE corner of Van Buren and Dysart Roads in Avondale, at the former site of Avondale Mitsubishi. The property is 6 acres, and includes 3 buildings-a showroom with offices, and 2 storage buildings with covered work areas. A to Z has moved into the property with a minimum of renovation.

"A to Z customers in the West Valley have been requesting a location in their area for a few years," says Fred Matricardi, founder and General Manager of A to Z, "and we're sure the new location will be a success with a readymade audience for all the equipment options we offer." Matricardi's daughter, Vicki Dickerson, Manager of the Avondale location says "We're really excited to bring equipment rentals and sales to the West Valley, including all of our extensive party equipment offerings."

The store is scheduled to have a Grand Opening on Saturday, Sept. 25, with a special offer of 50 percent off on all 1 day and 3 hour equipment rentals, at that location ONLY. They will also be offering a free BBQ lunch, from 11 a.m. to 1 p.m.

Visit A to Z Equipment at www.a-zequipment.com.
Business to Business
Red Velvet Tailoring provides alterations for men, women and children. Get 10% off every Thursday before Sept. 30. Call Katerina at 480-208-8699. Located next to the Dairy Queen at 6554 E. Cave Creek Road, Suite #6.
MacDonald's Ranch is your family-oriented taste of the west in the tranquil Sonoran Desert. Come check out their pumpkin patch the entire month of October. The patch is open all week from 9 a.m.- 6 p.m. Pumpkins vary in price between $3 and $12 depending on size. Bring your family and friends to enjoy MacDonald's Ranch's Pumpkin Festival. Only $7 per person, and children under 12 months have free admission. Also take the kids to the petting zoo, hay maze, sack race, pony rides and much more. Call 480-585-0239 for more info or visit their website, www.macdonaldsranch.com. Located at 26540 N. Scottsdale Road.
Join the Arizona Women's Shooting Association for the NRA basic handgun course. Sept. 30 and Oct. 1, 6 – 10 p.m. $100 per person. For further information call 602-571-3886 or visit www.azwsa.com.
Receive transportation to and from the airport and other local locations with Pepper's Private Care Service. Pepper's services Cave Creek, Carefree, Scottsdale and North Phoenix. Call 602-501-3328 to get a ride today.
With Steel Shield Security Doors' summer specials, you can get $100 off any door with a regular base price of $1099 or more and $50 off any door with a regular base price of $825 or more. Security Doors offers sunscreens, security doors, entry gates, enclosures and window guards. Call today to schedule your complimentary in-home appointment, 623-581-DOOR (3667).
Gustafson & Associates, LLC, is your accounting, bookkeeping and tax service. Gustafson & Associates is private and confidential. Office: 480-575-3094. Fax: 480-907-7358. Located at 37417 N. Tom Darlington #5, Carefree.
Create your own private retreat with Luxury Bath. Luxury Bath specializes in solid surface panels, marble slabs, countertops and tile. During their Monsoon Madness deal, you can renovate and have your bathroom painted without any additional cost. Call 623-580-9525 for additional information.
Saguaro Grille's sidewalk café is the place to be for breakfast or lunch. After a long, hot summer, it's a relief to be able to enjoy the breeze that flutters the tablecloths. Try an iced latte, a cold beer or a glass of chilled white wine with your meal for an utterly cool experience. Saguaro Grille is open 7 a.m. - 3 p.m. every day at 99 Easy Street in Carefree. More information is available by calling 480-575-0021 or visit www.SaguaroGrille.com.