BY PETE MOHR | SEPTEMBER 22, 2010
Volleyball, #2-ranked, gets big road win over top-ranked Queen Creek!
Lady Falcons host #4 Saguaro, Thursday, 6 p.m.; Falcon Classic tournament here all day Saturday
QUEEN CREEK – In the mystical world of Arizona Athletic Association Power Points, for the week beginning Monday, Sept. 20, the Queen Creek Lady Bulldogs (8-0) were ranked #1, followed by the 6-1 Lady Falcons, then two-time defending champions, 7-0 Sunnyslope, who shut out CSHS here on Sept. 2. Go figure. Keep Reading...
BY PETE MOHR | SEPTEMBER 22, 2010
Kinsler to Leonard and Larson: Falcons 'kill' Shadow Mountain, 45-21 on Sept. 17
Twenty-one point 2nd quarter outburst "gores" Matadors!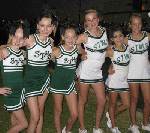 FALCON STADIUM – Quad-Captain senior John Leonard flat-out muffs the first two passes quarterback Bryce Kinsler put in his mitts. What-in-the-heck was going on?! Not to worry. His "drops" just made "Big, Bad John" angry – and more focused than he always is.

Plus: How Falcons scored and 'Birds fly to Paradise Valley!
Keep Reading...
BY PETE MOHR | SEPTEMBER 22, 2010
Meet the Football Falcon seniors …
Connor Henry
I first met pole vaulter Connor Henry in the early afternoon of last May's 4A-I State Track Championships at Mesa Community College. In the infield of Briggs Stadium, the only relief from the blazing sun was offered by the tilted umbrella of his vaulting coach, Paul Markham. Keep reading ...
BY PETE MOHR | SEPTEMBER 22, 2010
Sports Briefs
• Yes, fans, there is a Notre Dame!
• JV Falcons 1st Half Explosion!
• 'Don't tread on Bryce!'
• Babybirds first victory flight!
Keep reading ...