SEPTEMBER 22, 2010
Arizona's only all day, all night Halloween event planned for Oct. 30-31
Thriller dancers, monster bashes, haunted mazes and fun planned for all ages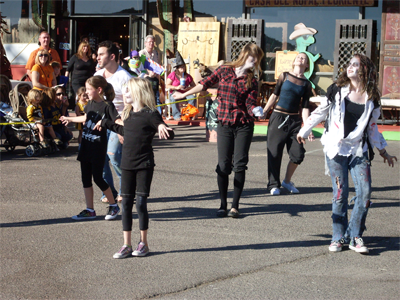 CAVE CREEK – Halloween will be spookier than ever during this year's Cave Creek Wicked.

Beginning on Saturday, Oct. 30, Cave Creek Wicked kicks off with fun for families, couples and singles from 12 – 5 p.m. During this portion of the event, visitors will enjoy fun in the heart of this quirky town including:



• community-wide trick or treating
• haunted maze/haunted hideout
• pet costume contest/parade (2 p.m.)
• horse costume contest (12:30 p.m.)
• Cave Creek Dance Academy thriller dancers
• Spookyville (weird science, crazy animals, crafts and more)
• super salsa station
• chili cook-off
• pumpkin bowling
• music
• inflatables
• pumpkin flavored treats
• fire and police fun
• two petting zoos and minis
• great food and beverage
• kids' costume contest (3:30 p.m.)
• theatrical performances

In addition, several Cave Creek restaurants will host Twilight Wicked for visitors who wish to dine between 6 – 9 p.m.

A complimentary bus will pick up patrons at School House Road (by the parking area) and drop them off at the restaurants on a continuous route).

For the late night costumed crowd, from 9 p.m. – 2 a.m. on Oct. 30 – 31, board the same complimentary haunted bus and go to the town's top restaurant/saloons for wicked staggered costume contests, specialty themed cocktails and prizes.

For more information visit www.cavecreekwicked.com.