BY LINDA BENTLEY | SEPTEMBER 15, 2010
The ADA 20 years later
Did it help or did it hinder?

WASHINGTON – On July 26, President Obama gave a speech on the South Lawn commemorating the 20th anniversary of the Americans with Disabilities Act (ADA) signed into law by President George H.W. Bush in 1990.

He said, "[The ADA] began when Americans no longer saw their own disabilities as a barrier to their success, and set out to tear down the physical and social barriers that were. It grew when you realized you weren't alone. It became a massive wave of bottom-up change that swept across the country as you refused to accept the world as it was. And, when you were told, no, don't try, you can't – you responded with the age-old American creed: Yes, we can."

According to Obama, it was because of sit-ins, demonstrations and protests from coast to coast, where people marched, organized and testified, "The laws changed and minds changed, and progress was won."

"And, our work goes on," said Obama. "Even as we speak, Attorney General Eric Holder is preparing new rules to ensure accessibility of websites.

"We're also placing a new focus on hiring Americans with disabilities across the federal government," citing only 5 percent of the federal workforce is made up of Americans with disabilities, far below the proportion of disabled Americans in the general population.

"So," he said, "We're going to boost recruitment, we're going to boost training, we're going to boost retention. We'll better train hiring managers. Each agency will have a senior official who's accountable for achieving the goals we've set. And, I expect regular reports. And, we're going to post our progress online so that you can hold us accountable, too."

While the ADA is considered a civil rights law forbidding discrimination against people with physical or mental handicaps and outlawing physical barriers in public accommodations, transportation, telecommunications and government services, its primary emphasis is on enabling handicapped people to enter the job market and remain employed.

Persons with AIDS and substance abusers in treatment programs are also amongst the protected class of the ADA.

The federal government's efficiency and progress is already posted on the White House's website by "ExpectMore.gov," which has been around for years to evaluate and rate federal programs.

ExpectMore states, "The Office of Disability Employment Policy (ODEP) works to address the significant barriers to employment faced by individuals with disabilities. It conducts research, shares effective strategies, and provides technical assistance to increase the employment opportunities of people with disabilities."

However, despite a budget of approximately $30 million and Obama's speech, peppered with "Yes, we can," the ODEP is rated as "Not Performing," which means it has not demonstrated results.

According to ExpectMore's evaluation, "The program's measures are not outcome oriented, and it has limited baseline data for assessing progress. The program has frequently revised annual performance goals, limiting its ability to access annual performance and progress toward achieving long-term goals."

ExpectMore also found the program "unable to measure improved efficiencies or cost effectiveness."

This non-performing program will now be saddled with higher goals, expectations and accountability.

Of all the Department of Labor (DOL) programs evaluated and $15.7 billion in funding for 2008, only one of its programs, the Bureau of Labor Statistics, with a $545 million (4 percent) of the DOL's budget, was considered "Effective." The majority of the DOL's programs (53 percent) were considered "Adequate," with 35 percent rated "Moderately Effective" and 8 percent "Ineffective."

The ODEP says it will be conducting "a rigorous evaluation to assess the impact and effectiveness of the program's policy and coordination functions" as part of its improvement plan.

And, despite the good intentions of the ADA, which received overwhelming bi-partisan support, studies suggest there's been no significant improvement in the number of disabled persons entering the workforce.

One of the contributing factors is said to be disabled persons' reluctance to lose disability benefits by entering the workforce and exceeding statutory maximum income.

Another problem is the ADA itself, with employers afraid of potential discrimination lawsuits in the event they ever need to terminate a disabled employee. The key to avoiding that is to not hire them in the first place.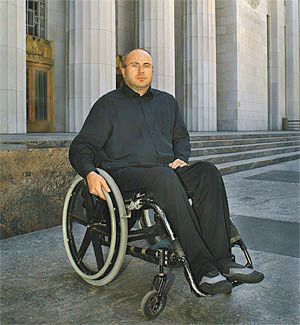 Then there's the cottage industry the ADA created for people such as Jarek Molski and their attorneys.

Since 2001, Molski, a Woodland Hills, Calif. resident, who was left paralyzed by a motorcycle accident in 1985 at the age of 18, has filed over 400 lawsuits in federal court against California small businesses for a variety of ADA violations.

In 2004, U.S. District Court Judge Edward Rafeedie, for the Central District of California, granted a motion filed by defendant Evergreen Dynasty Corp., doing business as Mandarin Touch Restaurant in Solvang, Calif., to declare Molski a vexatious litigant and require him to obtain permission from the court before filing any new claims under the ADA.

The Ninth Circuit upheld Rafeedie's order and the Supreme Court declined review in 2008.
Rafeedie wrote, "A review of the cases submitted to this court reveals that many are nearly identical in terms of the facts alleged, the claims presented, and the damages requested. In virtually every complaint involving a restaurant or winery, Molski initially reports having trouble finding adequate van-accessible parking. Then, almost uniformly, he reports difficulties entering the business, often citing ramps that are too steep, or doors that require more pressure to open than is permitted by law. After entering the business, Molski generally complains that the service counter is too high. Virtually every complaint ends with Molski venturing into the restroom, which inevitably suffers from at least one violation.

Molski almost always suffers some injury – typically to the upper extremities – in the process of transferring himself from the wheelchair to the toilet. He also regularly complains of suffering humiliation or other emotional distress from the experience. Molski's prayer for relief routinely includes both a request for injunctive relief and damages of $4,000 per day, for each day after his visit until the facility is brought up to ADA standards."

Rafeedie called Molski's ADA claims "a sham," while noting, "Of the hundreds of cases Molski has filed in this district, not one has ever been litigated on the merits. The overwhelming majority settle, with a significant minority dismissed for violation of a court order, or failure to prosecute the claim. This not only calls into question Molski's good faith expectation of prevailing on the merits of his claim, but suggests that he does not even have a reasonable expectation (or intention) of litigating the suit on the merits. Molski's m.o. is clear: sue, settle and move on to the next suit."

Rafeedie said because Molski's filings appear meritorious when examined individually, and their vexatious nature revealed only when reviewed in the aggregate, he also ordered Molski to file a copy of his order with every new complaint as the only effective means of putting a reviewing judge on notice of Molski's history.

So, while the ADA is touted as a victory for the disabled, Molski, and others like him, are said to have used the law to extort money for personal gain rather than to obtain gainful employment through the law's provisions.