SEPTEMBER 15, 2010
They're back – the ever popular Wild West Days Bath Tub Races!!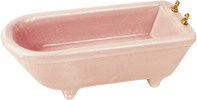 CAVE CREEK – The excitement begins early. The first important date is Friday, October 15, yep that's right, weeks before Wild West Days, November 4-7.

The Miss Bath Tub Queen Pageant and Sponsor Auction will be held from 7 – 10 p.m. at Cody's. The auction for prime visibility as sponsors of the bath tub racing teams will be heated, so come early and plan to bid seriously and generously. You'll also be bidding to name the queen!! Winning sponsor bidders and bath tub teams will be partnered by the end of the night. DFCA will benefit from the sponsor auction. Keep Reading...

Cave Creek Museum re-opens on Oct. 1
Tickets on sale now for Oct. 8 Native American Flute Concert
CAVE CREEK – Cave Creek Museum re-opens for the season on Friday, Oct, 1. Located at 6140 Skyline Dr., Cave Creek Museum features an extensive collection of prehistoric and historic artifacts that describe the lives of Native Americans, miners, ranchers and pioneers. The museum hours are Wed., Thurs., Sat. and Sun. from 1 p.m. to 4:30 p.m., and Fri. from 10 a.m. – 4:30 p.m. Entrance fees are $5 for adults; $3 for seniors; and $2 for students. Children 12 and under are free. Keep Reading...
Keep students in stitches
CSHS Shadowbox Players needs donated sewing machines

The Cactus Shadows High School Shadowbox Players are looking for new and gently used sewing machines in good working condition. (Repairs are not in the budget.) "The ideal sewing machine would be capable of sewing both large and small garments," said theater director Andrew Cupo, "and should be heavy-duty enough to last a few years of regular wear and tear." Keep Reading...