BY PETE MOHR | SEPTEMBER 15, 2010
Meet the Football Falcon seniors … Nick Miller

"Timing is everything," so they say. For this profile on placekicker Nick Miller, that oft-used adage is dead on-target.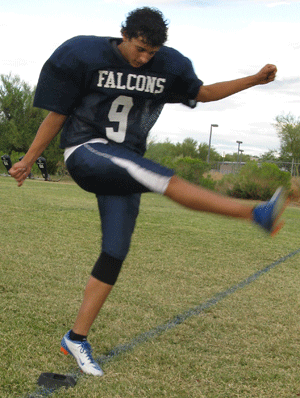 Consider this: Two nights after Sonoran News had opined that Nick Miller's placekicking would be an important factor in the Falcons' 2010 fortunes, he (1) made his first two (varsity) field goal attempts, the first, a 40-yard beauty right down Broadway; (2) was three-for-three on P.A.T. attempts; (3) boomed his "long" kickoffs inside the Greenway five; and (4) put the perfect crazy bounce on his onside kickoff, that destroyed the Demons' momentum on the first play of the 2nd half.

Four plays later, Nic Erickson sliced two and one-half yards over right guard for his second touchdown of the game. "Nicky" did his P.A.T. thing and the Falcs were comfortably in front, 24-10. "The Bradshaw Bad Asses" came on to hang a 2nd half goose egg on the Demons, ensuring Cactus Shadows' first Falcon Field victory over Greenway. With only six seconds gone in the 4th quarter, Miller's second field goal, a 28-yarder, made the final 27-10. Not a bad night's work, Nick Miller! Thanks for making the ol' sportswriter look good.

The older of Creekers Mark and Danielle Miller's two sons (Sam, 12, is a 6th grader at Bella Vista), Nick was born Nov. 1, 1992 in Santa Monica, Calif. Nick comes by his athletic confidence naturally, Mark Miller being an internationally-known "off-road" rally racer. The Millers moved to the Valley when Nick was four, already into his second year of organized soccer. He'll be a striker again this upcoming season for Head Coach Tony Vos's Soccer Falcons.

Two years ago Assistant JV Football Assistant Coach Chris Dodrill was on a "find-me-a-kicker" mission from Head JV Coach Matt Mason, when he "discovered" Nick – with a recommendation "assist" from then Head Soccer Coach Mat Evans. "I tried placekicking, liked it, and here I am!" he recalls – after waiting in the wings in 2009 behind senior Bryce Redmond. By the end of last season, Nick had taken over kickoff duties. You couldn't miss his strong leg – and his respectful and good-humored chompin' at the bit!

"I'm comfortable from 40 yards in (translating into 50-yard attempts!)," Nick confidently assessed to this writer. He continued, "What's equally important to leg strength is being mentally strong … knowing – not thinking – I can make every kick I attempt. That's my personal goal for this season: making 100 percent of my field goal tries." He sees the Falcons "at least making it to the State Semifinals."

In the off season, Nick trains with Baltimore Ravens placekicker (and Scottsdale resident) Billy Cundiff, and has registered with the National Collegiate Scouting Association. Barring injury or a total breakdown in the Falcons' kicking protection, he will have, I predict, a Division I offer-producing season. Why? Because Nick Miller has never seen a kick he didn't know he could make.

"Nicky," I like your style. Don't forget me when you're playing in your first Super Bowl!