BY PETE MOHR | SEPTEMBER 8, 2010
Meet the Football Falcon seniors … Gunnar Black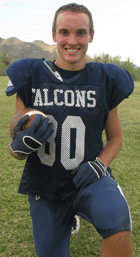 My sports memory tells me it was Leo Durocher, an alumnus of the St. Louis (Baseball) Cardinals' infamous "Gashouse Gang," who once irascibly observed, "Nice guys finish last!" Were "Leo the Lip" alive today, his sweeping indictment of "nice guys" would not apply to the quiet-spoken, modest Gunnar Black, truly one of the nicest of the many "nice guys" I've encountered in my nine seasons-plus of reporting Cactus Shadows Football.

"Ask the man who owns one." - Ford Motor Co.'s famous slogan. Head Coach Chad DeGrenier on Gunnar Black: "Gunnar is a very hard worker … a great kid! For four years, he's been a tremendous asset to our program." That hardly sounds like a last-place finish to this writer!

Born April 8, 1993 in Scottsdale, Gunnar is the oldest of Creekers "J.R." and Andrea Black's three children. Kody, 15, a CSHS sophomore, is a defensive end for the Falcon Jayvees. Kelsey, 12, is a 7th grader at STMS.

A Pop Warner alumnus (his first organized football in 2003), Gunnar earned varsity letters as a sophomore and junior, finding his niche on special teams and as a wide receiver. In last Friday night's win over Cienega, which vaulted the Falcons to the #4 ranking in 4A-I, Gunnar registered a big tackle on a kickoff to the Bobcats. With speed and good hands, he'll be on the receiving end of more than one Bryce Kinsler pass.

Gunnar tells me, "Ever since I was a little kid, I wanted to play under the lights on Fridays; so for me, being a Football Falcon is a dream come true!"

And Gunnar Black as a "senior leader?" What responsibility does that role carry? "We seniors must be the leaders to encourage the whole football program – not just varsity – to be their best, on and off the field."

His personal goals for this season? "To play my best on every down … to do everything I can to help my team play better." What about for the Falcons? "Nothing less than an undefeated regular season – then go and win State! Make the State Semis, at least. There's no doubt we can do that."

And what lessons did the 'Birds learn from their Sept. 3 cliffhanger against Cienega? "That this team has a lot of talent; but for four quarters, we've got to play as hard as we can … finish off our opponent … show 'em no mercy!"

Gunnar rates himself an "average" student, history and zoology being his favorite subjects. As a career, he aspires to become a physical therapist, likely enrolling at SCC, then transferring to ASU. His favorite leisure sports? Snowboarding and wakeboarding.

With a definite interest in playing football at the "next level," Gunnar has registered with the National Collegiate Scouting Association. Thus far, no inquiries. He realistically assesses, "If no opportunities develop, this will be it for me."

Gunnar Black, keep on being the "nice guy" you are – and have always been. Life's "opportunities" will come knocking!