BY PETE MOHR | SEPTEMBER 8, 2010
'Birds hold on for 32-29 opening victory
Greenway here, COX-7TV, Thursday, Sept. 9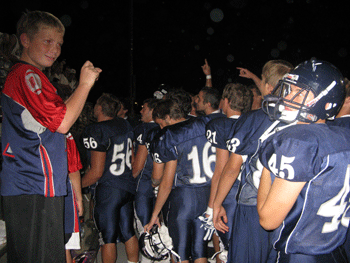 Sing that fight song! An unidentified young fan joins with the Football Falcons in their (postgame) traditional victory celebration.
FALCON STADIUM – 8:29 to play: cornerback Joree Schneider nearly breaks an INT before he's hauled down from behind at the Cienega 31. John Leonard snags a Bryce Kinsler pass at the 'Cat 5; puts a "highlight film" spin move on the defender; then lunges determinedly inside the right pylon to score his fourth touchdown of the game. For the second time, Nick Miller's point-after try is frustratingly blocked; but Falcons are up, 32-14, only 6:16 left on the Van Chevrolet scoreboard clock. Time to tune up the CSHS celebratory Fight Song, right?
W-r-o-n-g! Head Coach Nemer Hassey's gang didn't make the trip all the way from Vail, Arizona to quit. With senior quarterback Jordan Mills heating up, the Bobcats strike for 15 unanswered points in the next four minutes, all scored by Edgar Poe. His reception for a two-point conversion pulls Cienega to 29-32, only a field goal away from a tie. 'Cats' onside kick attempt bounces out of bounds at their 49. There's 2:51 remaining.
But the Falcons can't run out the clock. Will Bowers punts dead to the Cienega 16: 1:20 left. Plenty of time for the 'Cats to make a near-miraculous comeback. Mills to Javier Olono for nine. Then, in one play, Edgar Poe goes from "hero" to unwitting "goat." Mills swings a pass into the right flat to running back Jeremiah Robinson who's at full speed. The Falcon corner misses badly, and Robinson races down the left sideline for 75 yards and what appeared to be the go-ahead touchdown. The packed West Side stands go quiet in stunned silence.
But hold on, Falcon fans! Poe is flagged for an obvious hold on safety Nic Erickson. Poe, on his knees, pounds the ground in agonized disbelief. But the call was correct. 'Cats start over, 1st-and-10 at their 27. Mills throws incomplete on 1st down. Defensive end Tommy Pritchard chases Mills out-of-bounds at the 20. 3rd-and-17: Schneider narrowly misses his second INT, with Cienega set back ten yards on a dead ball foul. On 4th down, Mills rolls to his right, can't find an open receiver and is chased down by senior linebacker and Game Co-Captain (with Leonard) Joey Hughes at the 'Cat 12. Kinsler takes a knee. Bobcats leave the field. Game over. W-h-e-w!
Falcons, after a 20-0 impressive start, have come 'way too close to blowing a "W" – and they know it. The relieved 'Birds – and 12 of Head Cheer Coach Rika Cuff's varsity cheerleaders – set sail for their appearance on Channel 12's "Friday Night Fever."
As an overview, here's what this writer observed. If I wrote the superlatives sophomore Bryce Kinsler earned in his quarterback debut, Coach D. would ban me from the Falcon sideline! Kinsler's "numbers" speak for themselves: 14 completions out of 22 attempts for 179 yards; four touchdowns (all to Leonard); and no INTs. [Falcons, a team, committed no turnovers.] Kinsler, back to punt in the 2nd quarter, wisely covered an air-mailed snap to avert what could've been a more costly disaster. High praise to the Falcon "O" line which, as they'd promised, gave up zero sacks of young Bryce.
Before Labor Day afternoon's practice, Kinsler admitted to
Sonoran News
he'd had pre-game jitters; but with a first-start win under his belt, "I feel a whole lot better." He more than deserves to.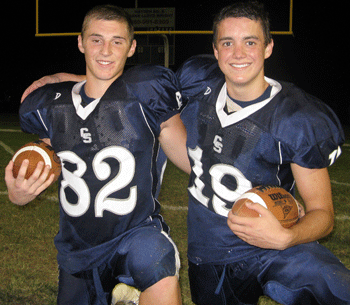 Falcon coaches awarded "Game Balls" to seniors John Leonard (l., four touchdowns) and linebacker Will Bowers (strong defensive play) for their performances in the opening game win over (Vail) Cienega.
John Leonard: at the risk of speaking Falcon Football blasphemy, his 11 catches-for-149 yards, four-touchdown performance brought back memories of "The Wild Horse," wide receiver Kyle Watkins of the 2006 State Champs. Leonard just may be faster, is equally sure-handed, has impressive leaping ability and although not as powerful as Watkins, is a "big play" threat after-the-catch. Barring injury, I predict for Leonard a record-setting season. And he solidly plays "both ways." In the 4th quarter, after the 'Cats had come back to 21-32, Leonard alertly covered the onside kick that was bouncing dangerously free in front of the Falcon bench. On the football field, "Confidence" is John Leonard's middle name. That's how he plays.

Seniors Austin Stephens and Nic Erickson: both ran hard – and effectively, combining for 135 yards rushing. Stephens led the Falcons eight-play drive for their first touchdown, his second effort stretching the ball to break the goal-line plane; and he turned in the "Hit-of-the-Night" on the kickoff return following the second CSHS score. Erickson explosively returned two kickoffs to midfield, nearly breaking both. In the 3rd quarter, his "fresh legs" carries positioned the 'Birds for their fourth six.

Senior placekicker Nick Miller: his strong leg is going to be a factor. All his kickoffs boomed inside the 5-yard line; his "pooch" kickoffs were perfect; and when the game situation calls for a field goal attempt, Miller has the "leg" to be a legitimate scoring threat from 35 yards in.

Falcon "D": other than their 4th quarter pass defense "vacation," tough when they had to be, twice stopping the Bobcats in the Red Zone and coming up big to snuff Cienega's last four snaps. Hughes out fought Cienega running star Willie Willis for a fumble recovery on the 'Cat ten that led to the Falcons' second touchdown in the game's first 4:30. Huge momentum!

So what did Head Coach Chad DeGrenier think of his team's opening win? Postgame, to his team, in the south end zone: "You guys fought and fought and fought to hold on for a big win. I'm proud of you; but when we're up, 32-14, we can't let a team come back on us late in the game like we did Cienega." And to Sonoran News before Monday's late afternoon practice? Coach D., with a wry smile, "We survived."

All right, Falcon fans, Thursday night is your big chance to be on TV, so start making those "Hi, Mom!" signs.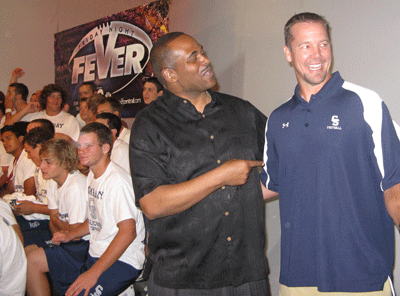 "FRIDAY NIGHT FEVER"
Coach and Co-captain: Bruce Cooper, co-host of "Friday Night Fever," welcomes CSHS Head Coach Chad DeGrenier (far right) before interviewing Co-Captain Alex Yazdi (below, left), late Friday night, Sept. 3, at KPNX-TV 12 studios in downtown Phoenix.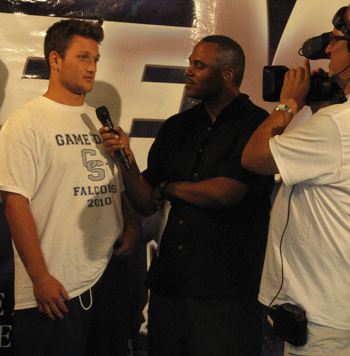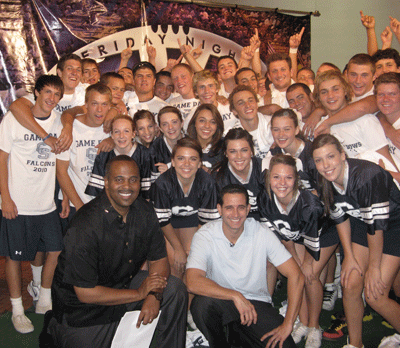 JUBILATION CITY! Falcon Football and Cheer are photographed with "Friday Night Fever" Co-Hosts (foreground) Bruce Cooper (l.) and Joe Pequeno. It was Cactus Shadows' first appearance on the popular post game show.

Photos by Pete Mohr