BY PETE MOHR | SEPTEMBER 8, 2010
'Birds hold on for 32-29 opening victory
Greenway here, COX-7TV, Thursday, Sept. 9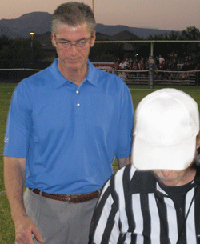 FALCON STADIUM – 8:29 to play: cornerback Joree Schneider nearly breaks an INT before he's hauled down from behind at the Cienega 31. John Leonard snags a Bryce Kinsler pass at the 'Cat 5 puts, a "highlight film" spin move on the defender and then lunges determinedly inside the right pylon to score his fourth touchdown of the game. For the second time, Nick Miller's point-after try is frustratingly blocked; but Falcons are up, 32-14, only 6:16 left on the Van Chevrolet scoreboard clock. Time to tune up the CSHS celebratory Fight Song, right?
Keep Reading...

Photo: Heads or tails? Veteran referee Anne Montgomery and Chuck Mullins, President, Van Chevrolet (scoreboard sponsor), look down for the coin, ceremoniously tossed by Mullins. Cienega won the toss, Falcons the game, 32-29, Friday night, Sept, 3, at Falcon Stadium.
Photo by Pete Mohr

BY PETE MOHR | SEPTEMBER 8, 2010
V'Ball's 'Slope too steep
Bounce back at Mingus; A.J. here, Sept. 9
CSHS – Postgame, Sunnyslope's Head Volleyball Coach Amber LeTarte modestly "couldn't remember" for Sonoran News when her Lady Demons last lost a regular season match. It wasn't to be last Thursday evening, Sept. 2, when the Ladies from 'Slope blanked the LadyFalcons (25-13, 27-25, 27-12), a "repeat" of their 2009 State Championship three-game shutout over the LadyBirds at Brophy. Keep reading ...
BY PETE MOHR | SEPTEMBER 8, 2010
"You Got The Right String, Baby, But The Wrong Yo-Yo!"
Honky-tonk legend 'Piano Red's' signature song (1950s?)
When I was in my late teens, my father pointedly opined, "Son, a smart man is usually right; a little man will generally act that way; but it takes a big man to admit when he's wrong and then apologize." Accordingly, I apologize to Dr. Kent Frison for incorrectly identifying him as the person responsible for the levying by CSHS of "athletic participation fees," which I personally consider somewhere between "shameless" and "unacceptable."

I had the "right string," all right; but Dr. Frison was the "wrong yo-yo." I thank CSHS Principal Steve Bebee for setting me straight. I offer that athletic participation is important to well-rounding a high school education. CCUSD should apologize (but probably won't) to every Falcon athletic parent for its layer-upon-layer of administrative "fat" that has significantly contributed to the withdrawal of all financial support for CSHS athletics, thereby necessitating the imposition of student "participation fees" to keep Cactus Shadows athletics – and other extracurricular activities – alive.

Who can begin to restore financial sanity to CCUSD? No, it's not Dr. Frison: he just "crunches the numbers." The only "line of defense" is CCUSD's Board of Governors, whom somehow, some way, voters in this School District must at least begin to hold accountable.