AUGUST 25 – 31, 2010
Business to Business
Saguaro Grille is offering a 20% off Breakfast or Lunch coupon (with the minimum purchase of an $8.95 entrée plus a beverage, Monday through Friday) to new subscribers of its free monthly e-newsletter. The newsletter provides coupons, information about specials and upcoming events in Carefree. To receive the newsletter, please send your name, email address and hometown name to Kathy King, KK@SaguaroGrille.com. 99 Easy St., Carefree. Summer hours: 7 a.m. – 3 p.m. every day. Call 480-575-0021 or visit www.saguarogrille.com for more information.
J Julian is now selling the SkinCeutical product line. Come in and receive a full size bottle of sunscreen as a free gift with the purchase of any custom facial ($65). Call for your appointment now: 480-595-1281.
Pane é Vino is cutting its menu prices by 20 percent. Enjoy a 3 course summer menu available 7 nights and only $29.95 per person. Ladies night is on Sunday night in the lounge. Located at 8900 E. Pinnacle Peak Rd. in La Mirada's courtyard. Call 480-473-7900 or visit www.breadandgrapes.com.
Add the exciting taste of Southwestern flavor on your meats, poultry, fish or vegetables, with Suzanne's Gourmet Desert Rub from Suzanne's Hot Stuff. Stop in at her shop in Frontier Town to check out her various hot sauces. You can visit www.SuzannesHotStuff.com to learn some of her great recipes. Call 480-488-1277 for more info.
StoneRidge Golf is offering a golf and grill special. The special includes 18 holes, cart w/GPS and your choice of breakfast or lunch. Only $39.95 Mon-Fri and $49.95 Sat-Sun. Located at 1601 N. Bluff Top Dr., Prescott Valley. Reserve your tee time today. Call 928-772-6500.
Israeli Combat Systems, sponsored by Arizona Women's Shooting Associates, is offering KRAV MAGA-Israeli hand to hand combat lesson for $260. At 300 W. Clarendon Ave. (4th floor) on Saturday, Aug. 28 and Sunday, Aug. 29 from 8 a.m. – 5 p.m. Register at www.IsraelicombatsystemsUS.net. For more information about the class contact "D" at 602-421-4645, Carol Ruh 602-571-3886, www.azwsa.com or Brian Moffat 928-593-9563.
Valerie's Furniture & Accents, 6070 E. Cave Creek Road in Cave Creek is having a huge rug sale with savings of up to 70 percent on all pile rugs throughout the store. Select from all sizes, shapes and irresistible colors for every room in your home. While you're there, check out the Valley's best cowboy cool selection of luxurious furniture, accessories and artwork. Known as the western décor authority, Valerie's 6,300 sq. ft. showroom is located in the heart of Cave Creek. Stop into Valerie's Furniture & Accents today or call 480-483-3327. www.ValeriesFurniture.com.
With Steel Shield Security Doors' summer specials, you can get $100 off any door with a regular base price of $1099 or more and $50 off any door with a regular base price of $825 or more. Security Doors offers security doors, sunscreens, entry gates, enclosures, and window guards, Call today to schedule your complimentary in-home appointment, 623-581-DOOR (3667).
Taste of Cave Creek slated for Sept. 29 and 30 at Stagecoach Village
Popular event expands to two days with food, Fine Art, live music and more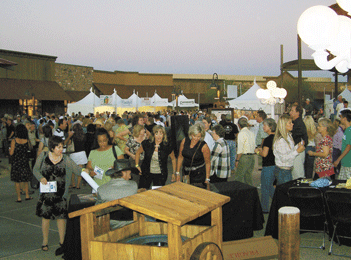 CAVE CREEK – The Taste of Cave Creek is coming soon with delicious tastings from more than 20 restaurants, a fine art exhibit and marketplace, hot air balloon launches, wine, tequila and craft garden beer tastings, cooking demonstrations and live jazz music presented by Arizona MusicFest.

The event presented by the Town of Cave Creek includes activities for the entire family and is scheduled for Wednesday, Sept. 29 and Thurday, Sept., 30 at Stagecoach Village, 7100 E. Cave Creek Rd. in Cave Creek, from 4 – 10 p.m.

Cooking demonstrations by Chef Kevin Binkley of Binkley's, Chef Aaron Geister of Tonto Bar & Grill and Mad Coyote Joe will be featured on both days.

Twenty Cave Creek area restaurants offer food tastings both days. Tickets are available at the gate or from participating restaurants for $10. Food samples range from $1 to $4.
Participating restaurants include, Alberto's, Bad Donkey, Bart's Indian Village, Big Earl's Greasy Eats, Binkley's, Brix Wine Spot, Bryan's BBQ, Buffalo Chip Saloon, Café Bink, Carefree Resort & Villas, Cartwright's, Cody's, Dairy Queen, El Encanto, Firecreek, Harold's Cave Creek Corral, Hideaway, Horny Toad, Janey's Coffee House, Joey's of Chicago, Le Sans Souci, Los Mesquites Taqueria, Marzano's, Saba's, Silver Spur and Tonto Bar & Grill.

Live jazz music from Arizona MusicFest will be featured at the culinary event on Wednesday, Sept. 29. The lineup includes:
4-6 p.m. The Joel Robin Band with Delphine Cortez
6-7 p.m. Michael Kocour and the ASU Jazz Septet
7-8 p.m. Eric Rasmussen Jazz Band
8-9:15 p.m. Michael Kocour and the ASU Jazz Septet
9:15-10 p.m. The Eric Rasmussen Jazz Band

Live country and rock music will be featured on Thursday, Sept. 30 throughout the evening. Both days will feature wine, beer and tequila tasting events.

There is also a fine arts marketplace featuring select pieces from the Sonoran Arts League and the Cave Creek Film and Arts Festival, along with hot air balloon launches and renewable energy demonstrations by APS.

The two-day event will benefit the Cave Creek Merchants' Chamber of Commerce, the Cave Creek Film and Arts Festival, Arizona MusicFest and the Sonoran Arts League.
For information visit www.TasteofCaveCreek.com.