AUGUST 25, 2010
Revered Taos Pueblo elder and leader to receive 7th annual Spirit of the Heard Award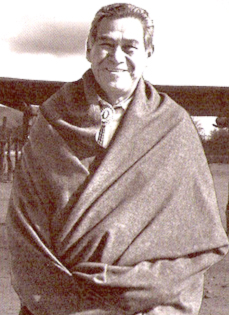 PHOENIX, ARIZ. — Tony Reyna, Taos Pueblo, has been chosen as the recipient of the 7th Annual Spirit of the Heard Award. The ceremony will be held on Friday, October 1, 2010, at 4 p.m. in the Steele Auditorium at the Heard Museum in Phoenix. During the ceremony, Reyna will be presented with traditional gifts and a cash award, and his photograph will be installed with other recipients of the award at the west entrance to the Steele Auditorium.

Each year, the Heard Museum's Board of Trustees honors an individual who has demonstrated personal excellence either individually or as a community leader. The Spirit of the Heard Award reinforces the mission of the museum, which is to educate the public about the heritage and living arts and cultures of Native peoples.

Dr. Letitia Chambers, director of the Heard Museum, says, "Tony Reyna's life has been one of service and commitment to his people." His effort to preserve the culture of Taos Pueblo were instrumental in Blue Lake being returned to the tribe. Reyna was elected governor of Taos Pueblo twice. In 1992, the United Nations' UNESCO agency named Taos Pueblo as a World Heritage site.

Wayne Mitchell, Mandan/Dakota, chairman of the Heard's American Indian Advisory Committee says, "This year's recipient of the Spirit of the Heard Award is a man of extraordinary and diverse accomplishments. Tony Reyna was chosen for a variety of reasons, but primarily because he dedicated his life to the betterment of Indian people and, in particular, to helping preserve the culture, resources and traditions of his tribe."

Reyna, 94, has made the concept of community service central in his life. As a young man, Reyna endured the horrors of the Bataan Death March and three and a half years in a Japanese prison camp during World War II. However, his spirit remained strong. "Determination kept me going," he said during being honored as a Taos Living Treasure in 1992. "I had a family, a home to come back to." His daughter Diane, director of the Peabody Award-winning video Surviving Columbus and director of the Learning Support Center at the Institute of American Indian Arts, notes that her father frequently recounts that overcoming the trauma of war and prison camp was simple: "I got busy," he says.

And busy he has been. After returning home to Taos, Reyna opened a retail shop to promote his people's arts and crafts. This shop is still open and is a thriving enterprise under the direction of his son Phillip. However, Reyna still works in the shop a few days a week, says Diane Reyna.

Reyna's four children have also followed in his footsteps; all four are adults of accomplishment. In addition to Diane and Phillip, John Anthony teaches at the Contemporary Indian School in Rowe, New Mexico and daughter Marie Anthony teaches at the Children's Arts Center at Taos Pueblo. His wife, Annie Cota Reyna, passed away in 1993.

Reyna has also served in non-tribal positions of authority and responsibility and is highly respected by the non-Indian world. Mitchell notes, "He is a man who has given much, but has asked for little in return."

The Spirit of the Heard award ceremony also serves as one of the official kick-off events for the 2010 Native American Recognition Days, held each year in the Phoenix metropolitan area to celebrate Native life and culture.

This event is free and open to the public. For more details, please call 602.252.8840 or visit www.heard.org.