AUGUST 18, 2010
Heard Museum to open new bookstore and coffee bar, thanks to grant from Piper Trust

Art Fund Grant will help advance Heard Museum's mission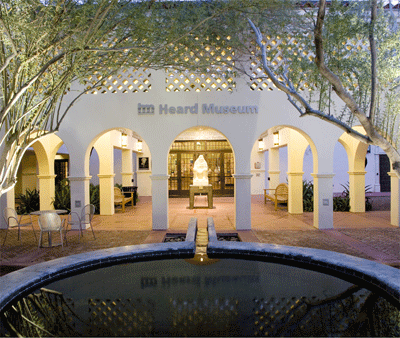 The Heard Museum was awarded a $150,000 grant from the Virginia G. Piper Charitable Trust's ART Fund to expand its retail and café offerings to enhance visitors' experiences. The project will relocate and expand the museum's bookstore, currently located in the Heard Museum Phoenix Shop, and add a coffee bar and cantina to provide quick-service offerings as well as a relaxing environment in the museum's beautiful arched entry courtyard. Both additions augment the existing Heard Museum Café and Heard Museum Shop and free up those spaces to focus on full-service dining and an expanded inventory of artwork, respectively.

The expansion utilizes currently non-public space on the east side of the Central Courtyard and will create new opportunities for Native artists, enhance the museum experience for visitors and improve its economic viability. The boutique bookstore will house one of the United States' finest collections of books pertaining to Native art, culture, history and literature written by and about American Indians. The coffee bar and cantina will offer museum patrons and nearby local residents and workers a relaxing venue for lunch, snacks and coffee, with many of the items coming from tribal communities or with Native influences. The new venture is scheduled to open in early 2011.

The Heard Museum Shop has long been recognized internationally as one of the most respected places to purchase authentic native art and jewelry, with some customers and collectors coming from as far away as Germany because of the fine offerings. The expansion project will provide more space for showcasing fine art for sale, with the proceeds going to support the museum and its educational mission.

"The Heard is an important tourist attraction for visitors, but it is also a place for locals to shop for unique high-quality gifts. Our Café is a special restaurant, not only for our museum visitors, but also for business meetings and for residents to enjoy fine cuisine with American Indian influences," said Dr. Letitia Chambers, director of the Heard Museum. "We believe this retail expansion will enable our patrons to have a richer museum experience, and we feel our community can more fully enjoy all we have to offer all year round."

"The plans to improve the visitor experience at the Heard are quite impressive," said Dr. Judy Jolley Mohraz, Piper Trust president and CEO. "The expansion of retail spaces for Native American artists is important to the future of this special museum."

The ART Fund grant will also enable the Heard Museum to create space for artists to demonstrate on site. This will provide the public with an opportunity to witness artists as they create while elevating the exposure of local artists.