AUGUST 11, 2010
Cookout at the Ranch XV
WHEN: Saturday, Oct. 2, 2010, 5:30 - 9:30 p.m.

WHERE: MacDonald's Ranch, 26540 N. Scottsdale Road in north Scottsdale.



WHAT: "Green Community Benefit" celebrates what makes Scottsdale special and benefits the McDowell Sonoran Preserve, Desert Foothills Scenic Drive, Pinnacle Peak Park, and wildlife conservation efforts.

The event features food, western and equestrian entertainment, exhibits, silent auction, drawings, and a magnificent desert setting.

FOOD & DRINK: Outback Steakhouse will cater a buffet with steak or chicken grilled Aussie Style, veggies and dessert. Soft drinks, water, beer and wine will be available.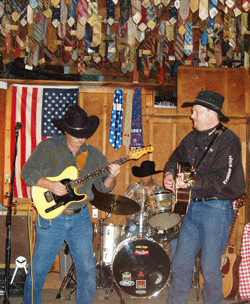 WESTERN & EQUESTRIAN ENTERTAINMENT: Featuring emcee and professional dance instructor Mindy Hubbard, the Scottsdale Mounted Police, Scottsdale K9 Corps, The Stragglers C&W Band with Geoff Conklin, the Sonoran Senorita Dancers, the release of a rescued great horned owl by Wild at Heart, and line dancing for the willing.

WILDLIFE, COMMUNITY EXHIBITS & CIVIC LEADERS: Peaches the Mule, Earl Grey the Trick Pony, Southwest Wildlife with River the Beaver, Liberty Wildlife, Wild at Heart, the Coalition of Pinnacle Peak, Desert Foothills Land Trust, Scottsdale's Preservation Department, the Scottsdale Fire Department and others.

BIG SILENT AUCTION: Place bids and win valuable merchandise and services, including dinner at local restaurants, arts and crafts from local artists, golf at local courses, souvenirs from pro teams, and much more.

RAFFLE & DRAWINGS: Complimentary door prize drawing for all adult tickets. Enter the Firewater Raffle for a wheelbarrow full of liquid refreshments.

TICKETS: Advance ticket prices: Adult: $45, Child: $15. Reserved Table (includes 8 adult tickets): $350. Prices at Door (if available): Adult: $50, Child: $16. For tickets and information, go to: www.scenicdrive.org (Cookout at the Ranch), www.gppaaz.org, or call 480-580-0593.

PARKING: Free event parking at MacDonald's Ranch (located on the west side of North Scottsdale Road, just south of Jomax Road). Complimentary horse-drawn wagon or van ride to and from the desert cookout site.

EVENT SPONSORS: Outback Steakhouse, Desert Foothills Cookouts, and MacDonald's Ranch.

EVENT ORGANIZERS: Friends of the Scenic Drive - Greater Pinnacle Peak Association (Host); the McDowell Sonoran Conservancy and Friends of Pinnacle Peak Park (Co-organizers).