BY PETE MOHR | AUGUST 4, 2010
Shirts-an'-skins, Youth Football wins!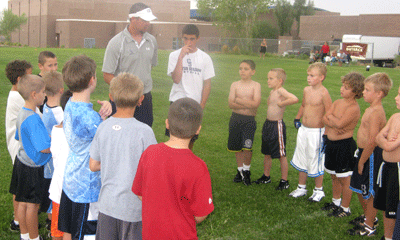 On Thursday, July 28, threatening Monsoon clouds didn't dampen the enthusiasm of approximately 70 aspiring gridders. They wound up a three-day Youth Football Camp under the direction of CSHS Head Coach Chad DeGrenier, his coaching staff and a dozen Football Falcons, real-live heroes to these young lads. Coach D. prepares to kick off one of three simultaneous Ultimate Football games, "Shirts vs. Skins." Organized chaos, it appeared at times; but the kids loved it! The ultimate objective? Building love and loyalty for the Falcons in the future. Coach DeGrenier knows that's the key to continuing success for his football program. Photo by Pete Mohr

BY PETE MOHR | AUGUST 4, 2010
Meet the Coaches

Vice President and Coaching Coordinator Ken Smerz gave the nuts-and bolts of Youth Football to the large crowd gathered in DAMS Gym, Thursday night, July 29; CSHS Head Football Coach Chad DeGrenier outlined his commitment to greater interaction between his Varsity Falcons and CCCYF.



But it took motivational speaker Dr. Ray Perkins, assistant principal and athletic director at Mesa's Dobson High, to get across the evening's main message: "Parents, try hard not to become over-involved in your young athlete's career. Please, don't 'live' through them." And for those young athletes, Dr. Perkins urged the same "persistence" that helped him conquer serious childhood illnesses to become an All-American at UVA and go on to an NFL career – Dallas Cowboys (1987-1988) and Arizona Cardinals (1999-1990).

Thanks for your encouragement and direction, Dr. Perkins. When your "Mustangs" have a bye, come back and watch our Falcons, as they strive to win the 4A-Division I State Championship.