BY LINDA BENTLEY | JULY 14, 2010
Thieves in the night still haunting Cave Creek
CAVE CREEK – Thieves continue to plague businesses in the town core. Sometime between 1 a.m. and 7 a.m. on July 4, two trailers, both full of donated merchandise, were stolen from For Goodness Sake, a thrift store owned by Chris and Paty Williams that benefits several animal rescue groups. More...

BY LINDA BENTLEY | JULY 14, 2010
Dog killed in hit and run on Spur Cross Road

CAVE CREEK – Christian Berge has been a common sight running along Spur Cross Road for the past six years with his dog Cowan, a 7-year-old Staffordshire Terrier.

According to Berge, on July 8, sometime between 7:45 and 8 p.m., he and Cowan, who was on a leash, were running south on the east shoulder of Spur Cross Road about a mile north of Fleming Springs Road, when a dark colored, older model, mid-sized (possibly a Honda, Toyota or U.S.-made from the '90s), generic-looking sedan with tinted windows, heading north, drove quickly and deliberately toward them, striking Cowan and only missing Berge by perhaps 12 inches. More...
BY LINDA BENTLEY | JULY 14, 2010
If you ain't sad, maybe you didn't know Terry Anderson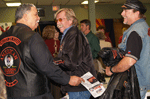 'Let's honor his memory by making sure illegal aliens are never again granted amnesty for willfully violating our borders'
LOS ANGELES – Phoenix activist Sandy Miller expressed sadness and loss at the news of Terry Anderson's death last week from pancreatic and liver cancer and said, "We all looked forward to Sunday nights to hear his opening greeting, Hello, stupid people of America. If you ain't mad, you ain't payin' attention!" More...