BY LINDA BENTLEY | JULY 7, 2010
Parker seeking $2 million from feds in abuse of process complaint
More a case of the pot calling the kettle black

PHOENIX – On Friday, Vernon Parker, one of 10 Republican candidates vying for the U.S. House of Representatives District 3 seat being vacated by Rep. John Shadegg, R-Ariz., filed a complaint in U.S. District Court against the United States government for abuse of process and negligent supervision. Parker and his wife are asking for $2 million for "injuries sustained," to include "past and future medical expenses, lost wages, loss of future wages, financial damages, emotional harm and pain and suffering." More...

BY LINDA BENTLEY | JULY 7, 2010
Feds sue Arizona to permanently enjoin enforcement of SB 1070
'SB 1070 has subjected the United States to direct criticism by other countries and international organizations …'
PHOENIX – On Tuesday, July 6, the federal government filed a complaint against the state of Arizona and Governor Jan Brewer seeking to declare invalid and preliminarily and permanently enjoin the enforcement of SB 1070, as amended and enacted by the state of Arizona on the grounds that it is preempted by federal law and therefore violates the Supremacy Clause of the U.S. Constitution. More...
BY LINDA BENTLEY | JULY 7, 2010
Carefree PAC qualifies initiative for November ballot
CAREFREE – On June 24, Town Clerk Betsy Wise sent a letter to Wayne Fischer, chairman of the Committee for Direct Election of Mayor, certifying his Initiative Application IN2010-01 has more than the minimum number of signatures required to qualify for the November ballot. More...
BY LINDA BENTLEY | JULY 7, 2010
Third Circuit affirms dismissal in Kerchner v. Obama
'Examination … would have made it obvious to a reasonable attorney that an appeal from the district courtís order was frivolous'
PORT CHESTER, N.Y. – On June 16, unofficial results indicated the citizens of the Village of Port Chester, N.Y. elected Luis Marino, as its first Hispanic member to the village Board of Trustees, ending a legal challenge filed by the U.S. Attorney's Office in December 2006, claiming Hispanic citizens had less opportunity than white citizens to participate in the political process and to elect candidates of their choice, in violation of Section 2 of the Voting Rights Act of 1965. More...
BY LINDA BENTLEY | JULY 7, 2010
Petite Acres, a microcosm of Cave Creek
'The contractor is working with municipalities to meet all codes and regulations set forth to assure proper water distribution'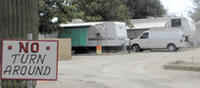 CAVE CREEK – After the article, "Petite Acres issued Notice of Violation for water supply issues," appeared in the June 23 edition, a variety of people came forward with something to say.
More ...