BY PETE MOHR | JULY 7, 2010
Youth sports moms fundraise $4,500!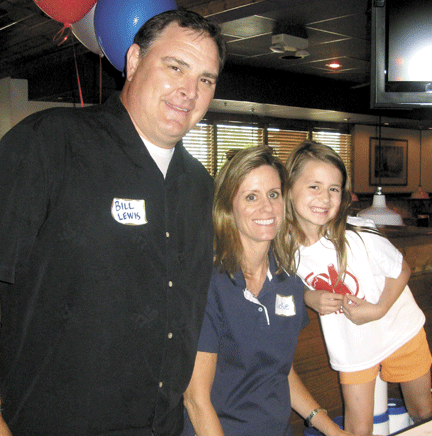 Sonoran News apologizes for being the proverbial "day late and a dollar short" in giving ink to the Saturday, May 22 fundraiser jointly sponsored by Cave Creek-Carefree Youth Football and Cactus Foothills South Little League. Youth Football dad Matt McMahon (Sam, 10, a Junior Pee Wee), a joint venture partner in The Valley's 17 Outback Steakhouses, provided the buffet luncheon venue at Outback Scottsdale Road/101.

Arizona Cardinals Lyle Sendlein and Levi Brown were the "star" guests, with Cardinal alumnus Bill Lewis (on left), popular host of the Cards' pre-game and post-game radio shows, emceeing the silent auction of impressive football memorabilia and the separate drawings for tickets to five games in the upcoming 2010 season.

Assisting Lewis were Vickie England and Miss Alexandra Bergstrom. "Alex" made the winning draw for Sonoran News: two tickets to the Seattle Seahawks game, Nov. 14.

Kudos to Mesdames England, Christy Infantino and Denise Bergstrom for "quarterbacking" the successful event which raised some $4,500 for improvements to Cave Creek playing fields.