BY SHARI JO SORCHYCH | JULY 7, 2010
You're invited to a 'free admission' party on Tuesday, July 20
CAVE CREEK – Join with your friends and neighbors in an evening of fun for the whole community and help one of our own who is in need! The artists and performers have all donated their time and talent, so there's no charge for the event! Plan to start the celebration with happy hour but you absolutely want to be at Harold's Cave Creek Corral by 6:30 p.m. when the fun begins.
There will be live music from J. Powers Band, one of the best bands anywhere. If you have not had the pleasure of listening to and dancing to this band, this is your chance. Don't miss it!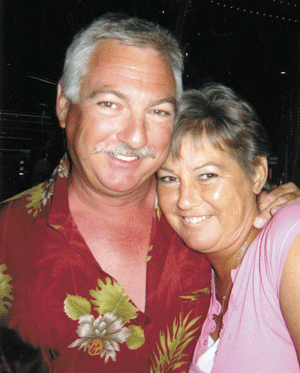 Tammy Morrison can't dance right now because she recently fell and seriously injured her back and spine but with lots of good care and physical therapy our prayers are that she will soon be back on the dance floor.
In Tammy's honor, get out on the floor and shake your booty! Our own local movie star and country western dance instructor Dee Lloyd of Delightful Dancing will be offering free dance lessons.
TC Thorstenson and Harvey Wallbanger will be there with their world renowned Buffalo Show at 6:45 p.m. You won't believe what this highly trained buffalo will do!
Tammy has been in Cave Creek since 1986, almost the same number of years TC has been training buffalos.
Be sure to visit the free art show (you can take these fine pieces home with you while helping Tammy) with special benefit works by Tony Apodaca (Canvasing the Four Winds), Amigo Mike and Jim Reiske and Friends.
You will want to have dinner to round out the evening. The buffet dinner tickets are $12.50 for adults and $10.50 for kids. The benefit fund will receive $7.50 for each adult meal and $5.50 for each child's meal to help with Tammy's care. Your dinner ticket stub will allow you to help again. On Wednesday, July 21 and Thursday, July 22 the following restaurants will donate 10 percent of the cost of your meals to Tammy's fund: Bryan's BBQ, Harold's, Los Mesquites Tacqueria, Silver Spur, Horny Toad, Buffalo Chip, Cody's, and Indian Village.
While you're waiting for your food to arrive, take a long look at the silent auction items and bid on your favorites. There is a Cabo San Lucas mini-vacation – two nights in an upscale hotel and two days fishing on a private 58 foot fishing yacht. Lunch on the boat is included. Airfare and other meals are at your expense. A Rocky Point stay includes two nights and three days in a beach front condo. Transportation is not included. There are far too many auction items to list them in this space!
There will also be a Split the Pot Cash Drawing and lots of other drawings too!
Together, Tammy and Jeff Gollnick are JNT Electric, LLC and have been operating the business since 2005. If you can wait until Tammy is stable and Jeff is back at work (very soon), he's one of the best electricians you'll ever welcome into your home or business. For the last six weeks and at present, however, his focus is on Tammy. JNT Electric can be reached by calling 602-465-1097.
For more information, to volunteer to help, to donate auction items or if you cannot attend and would like to make a monetary donation please contact Chris Ehle at 480-488-5296 or 480-213-9268.
Harold's Cave Creek Corral is located at 6895 E. Cave Creek Road. See you there!