JUNE 23, 2010
Cash prizes offered for top wildlife photos
Game and Fish wildlife calendar photo contest accepting entries through July 9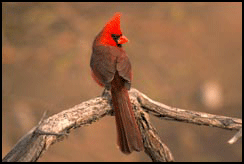 PHOENIX – What does it take to capture a great photo of Arizona wildlife? Equipment, skill, good timing … and a little luck.

The Arizona Game and Fish Department is looking for photographers who have what it takes to make wow-worthy wildlife images. The department's annual wildlife calendar photo contest is accepting entries through July 9. A top prize of $400 will be awarded to the photographer whose work is selected as "best in show." Twelve more first-place winners (one for each month of the year) will win $250. Winning entries will be published in a 2011 calendar showing off the diversity of Arizona's wildlife. Prize money is funded through calendar sales.

As always, the contest is free to enter. And this year, for the first time, only digital photos are being accepted. Slide transparencies will not be accepted, and prints are no longer required.

Wildlife photography is a good test of skill, and Arizona abounds with opportunities to practice. Swift pronghorns running across the grasslands, brilliant cardinals flitting through the palo verdes, and bold lizards scuttling between rocks will test the reaction time of any photographer. Being ready to capture opportunity when it comes is the key. By staying alert for that special wildlife encounter, anybody can capture an image that may be worth $400 in prize money.

Knowing where to find wildlife also is important. Along with their gear, many of the state's top wildlife photographers keep a copy of the "Arizona Wildlife Viewing Guide" in their camera bags. The viewing guide gives detailed directions to 128 of the state's best wildlife-viewing areas and information about the wildlife found at each one. The book is sold at all Game and Fish Department offices for $14.95.

Those who have captured one of Arizona's amazing wild animals in a photograph are invited to try their luck at turning that image into cash. The deadline for entering the 2011 Arizona wildlife calendar photo contest is July 9 at 5 p.m. MST. Entries must be received by the department by that time; postmarks don't count.

Contest rules and an entry form are posted at www.azgfd.gov/photocontest.